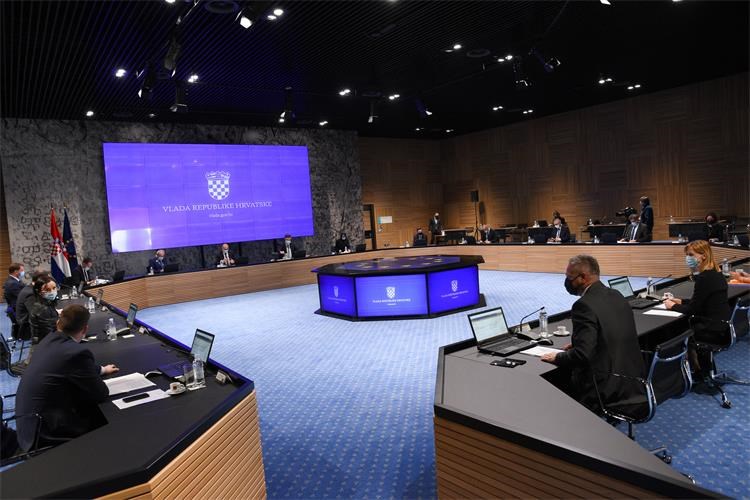 The Croatian Government will debate on the National Recovery and Resilience Plan, which envisages projects worth HRK 49.08 billion covering six key areas.
Based on the Plan, 54% of that amount shall be directed to projects in the enterprise sector, 15% to education, science and research, 12% to the reconstruction of buildings, 10% to public administration and judiciary, 5% to healthcare, and 4% to labour and social welfare.
Croatian Prime Minister Andrej Plenković said at the Cabinet session that its adoption was a precondition to ensure eligibility to obtain the €6.3 billion in grants from the European Union's Reconstruction and Resilience Facility.
"The purpose of the plan is to facilitate the government's reform efforts, as well as public and private investments and the GDP growth," the PM said.
The document will be added to the parliament's agenda in mid-April.
The Plan provides reforms and investments in the enterprise sector expected to boost competitiveness of the national economy, strengthen the agricultural, transport and energy sectors, improve environmental protection and enhance the viability of the tourist trade through investments in tourism in the continental part of the country, but also through the extension of the tourist season.
Increasing the efficiency of public administration, judiciary and state assets management and ramping up the fight against corruption is also included in the document, alongside the bolstering of the education and science system and placing emphasis on lifelong learning as one of the pillars of competitiveness.
The fourth component provides for a stimulus package for employment, development of skills necessary for the labour market, as well as bolstering the pension and welfare system and making additional efforts to eradicate poverty and social exclusion.
The fifth component will focus on increasing the accessibility and viability of the healthcare system through its modernisation, programmes for prevention and early detection of diseases, but also through the development of telemedicine and medical robotics.
The sixth component covers the reconstruction and upgrade of old buildings, including decarbonisation and construction of earthquake-resilient buildings in Zagreb and its environs.
These investments are planned be carried out by 31 August 2026.
"In the next ten years, Croatia will have €6.3 billion in grants at its disposal, as well as almost €13 billion in the new multiannual financial framework, another €3.6 billion in Next Generation EU loans, most probably about €1 billion for earthquake recovery, plus almost €1 billion from the ReactEU and the Just Transition Fund," Plenković said recently. /ibna