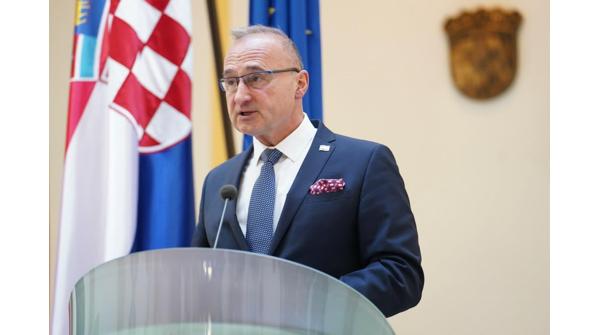 Croatian Minister of Foreign and European Affairs Gordan Grlić Radman said in Brussels on Monday that the European Union must help Bosnia and Herzegovina become a stable and institutionally functioning country.
"We must help Bosnia and Herzegovina achieve political and institutional stability, which is key for its European path," Grlić Radman told reporters before a meeting of EU foreign ministers.
One of the topics discussed will be the situation in the Western Balkans in preparation for a more comprehensive discussion on the region at one of the next meetings of the EU Foreign Affairs Council.
Grlić Radman announced that he would present a non-paper on Bosnia and Herzegovina today, a joint initiative by Croatia, Slovenia, Hungary, Bulgaria, Greece and Cyprus.
The document states that Bosnia and Herzegovina must remain the focus of the EU's attention and its accession to the EU is a priority that will require the comprehensive transformation of the country.
Among the first goals on this road is for Bosnia and Herzegovina to obtain membership candidate status, for which it must fulfil 14 priorities set by the European Commission.
The document adds that Bosnia and Herzegovina is founded on the principle of equality of its three constituent peoples and all its citizens, regardless of which part of the country they live in.
In order for Bosnia and Herzegovina to fulfil the political criteria, it must implement judgments by the European Court of Human Rights.
The fragmented political landscape, as well as the climate of mistrust between political representatives in Bosnia and Herzegovina often causes a functional blockade of the institutions and backsliding on key reforms. Only with the firm anchoring of the European values and standards of the civil and political rights of all three constituent peoples and its citizens can the country strengthen its stability and make progress. In order to achieve this, key reforms, including the reform of electoral legislation, need to be adopted without further delay before the general election in 2022, according to the document.
The new electoral law should be in line with European standards and the recommendations of the Organisation for Security and Cooperation in Europe (OSCE) and the Venice Commission in order to avoid any manipulation in the election process.
We want Bosnia and Herzegovina to take a decisive and sustainable step towards political stability, a functioning market economy and prosperity for all its citizens. The stability, security, prosperity and functioning of Bosnia and Herzegovina as a single, united and sovereign state is of the utmost importance not only for its immediate neighbours, but also for the region, the EU and the whole of Europe, the non-paper says.
The document also points out that Bosnia and Herzegovina should implement economic reforms and work on an effective migration policy. In order to successfully stop illegal migration, the country should ensure effective border control, improve return and readmission procedures, develop a registration and monitoring system, and ensure humanitarian aid for all vulnerable persons and asylum seekers.
The EU foreign ministers will also discuss the situation in Russia, relations with Turkey, and the situation in Venezuela, Georgia and Myanmar. They will discuss the human rights situation in the world with UN High Commissioner for Human Rights Michelle Bachelet. /ibna