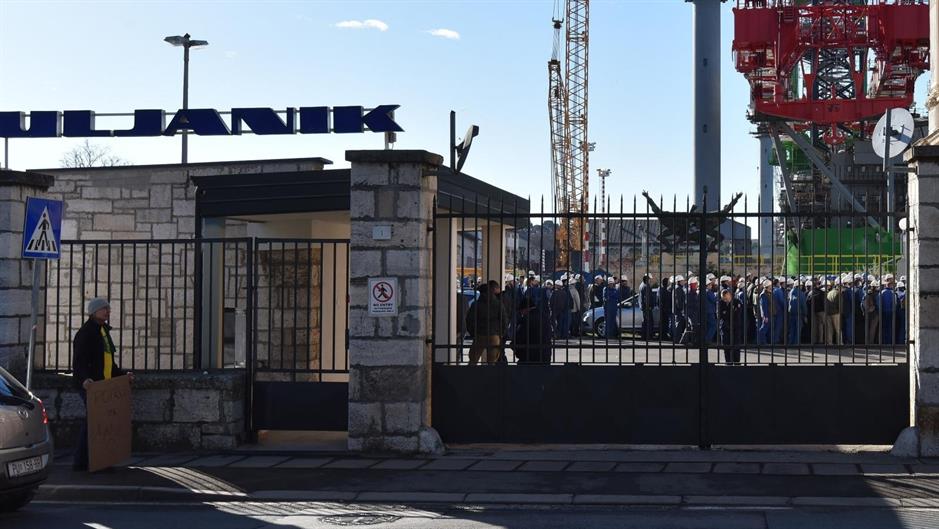 All 4,500 employees of Croatia's shipbuilding group Uljanik are on strike since Wednesday morning, in protest over late payment. They want the management to step down.
Union representative Marina Cvitic said that "The management has lost its credibility, employees have lost their confidence, not just the employees, but also suppliers and contractors", while another union representative, Boris Cerovac told the press "It's not just about a salary, but about our future. We want new people who will be able to manage the company better."
The employees blame the present management for the shipbuilding company's financial uncertainty and gathered "in front of the dock entrance calling for new management", as Reuters reported. They have said they will be on strike for as long as the management needs to deposit their salaries into their bank accounts.
Uljanik is Croatia's second worst open wound alongside Agrokor. Things may deteriorate if employees of Brodotrogir shipping company, owned by Kermas Energija, also down tools joining their Uljanik peers in their strike, as they, too haven't been paid their wages. Brodotrogir staff have given their management an ultimatum with the company having said on Tuesday that salaries will be deposited within the next five days.
Because of the Agrokor scandal that cost Croatian economy's stability and credibility a lot, in April 2018, the government passed Lex Agrokor, a law on crisis administration aimed at securing the country's economy, from big corporate failures, seenews.com reports.
At the beginning of this week, Croatia's largest opposition party, SDP, asked Andrej Plenkovic's government to act accordingly, even reinforce the existing law in order to avoid yet another financial crisis that would result from Uljanik's meltdown.
"Uljanik is a private company and we are engaged in the plan for restructuring and communication with the European Commission", Plenkovic has said. "In January the government issued guarantees in the amount of 96 million euros, and I can see some commenting on the matter are not aware of that, and those funds enabled the functioning of Uljanik since the New Year to date", the Croat premier stressed.
The Croatian leadership is in talks with both Uljanik and the European Commission in an attempt to find a rapid and sustainable solution and save the shipyard. The ministries of Economy and Finance are participating in the dialogue.
Uljanik shipyard has been facing financial difficulties for several years due to the adverse effects of the global financial crisis on the shipbuilding sector in general which has led to a drop in orders for new vessels, seenews.com says. However, its sustainability had been a prerogative for the country in order to join the EU before its accession…. / IBNA
Main Photo: Uljanik's main entrance, general strike on Wednesday, August 22