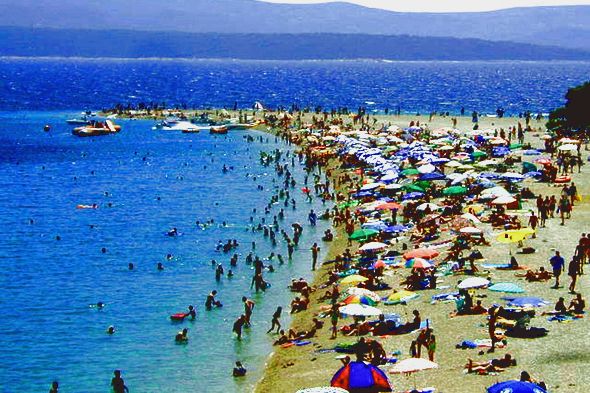 Over 91 million overnight stays will have been registered in Croatia by the end of this year, which is 10 million more than in 2015, and positive trends coupled with planned investments in the tourism sector are likely to raise the figures to 93 million in 2017.
"After an extremely successful 2016 tourism-wise, we expect positive trends to continue in 2017 and tourist turnover to rise by 3-4 per cent, which is above the projections in Europe," Croatian Tourism Minsiter Gari Cappelli tells Hina.
The revenues from the tourist turnover in 2016 will be made public by the Croatian National Bank in March 2017, however, they are likely to exceed the revenues of 8 billion euros posted in 2015.
This year, the revenues from the tourist trade are projected at 9.5 billion euros.
Some analysts deem these projections conservative and that the revenues can be even higher on the back of high increases in the consumption by both foreign and domestic guests in November and during the Advent season, full of various events and festivals in the capital of Zagreb and throughout the country, which is finalising this year's tourist season in a superb manner.
The outgoing year has been marked also by record high investments reaching 670 million euros in the tourism sector, as a result of which some 40 new and reconstructed hotels, bed and breakfasts, guest houses and hostels have opened their doors to guests.
In 2016, Croatia got its first four-star campsite on the island of Krk, and Bjelovar-Bilogora County in the interior of the country got its first campsite. Furthermore, new trekking and cycling routes have been added in programmes for tourists in the coastal counties.
In 2017, investments are likely to range between 500-800 million euros, and most of them are to be made by the private sector, just as in 2016.
According to estimates made by the Trade Union of Workers in Tourism and Hospitality Industry in Croatia (STUH), some 110,000 people have been employed in the tourism sector in 2016 either on a permanent or casual basis, which is by 20,000 more than five years ago.
In 2017, this sector will need an extra 20,000 workers, which will be 5,000 more than on demand in 2016, a year in which it has been publicly admitted that there is shortage of highly-qualified and competent labour force, due to the outflow of manpower from Croatia and wrong policies on the labour market.
The next year should bring about a turnaround, however, large-scale hiring of foreign workers is ruled out and solutions should be found in employing some of 40,000 jobless who have been trained for occupations in the hospitality industry and who are among 230,000 Croatians out of work./IBNA
Source: eblnews.com