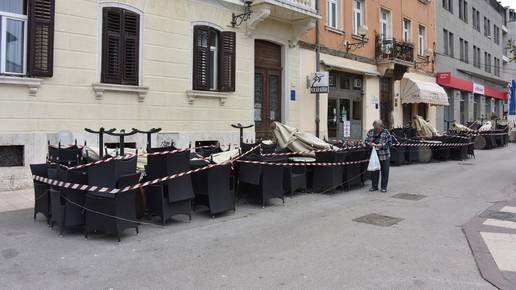 Following yesterday's presentation of the new measures to combat COVID-19 by Croatian Prime Minister Andrej Plenković, a meeting among stakeholders within the Government kick off this morning on the possible consequences for the hospitality industry.
The new measures stipulate that cafes and restaurants, as well as gyms, will shut down at midnight.
Franz Letica, president of the Zagreb Association of Caterers, said before the meeting that it was important to reach an agreement today, according to reports by Croatian website Index.
"Today we have to agree on everything. There must be no second round of negotiations, that is crucial", Letica said.
The caterers suggest two models for overcoming the situation. The first model compensation is of a longer-term nature and is based on the following measures:
– Reduction of VAT to 5% for a period of three years and to 13% in the long-term for all caterers
– Continued support for the preservation of jobs until April 2021 – HRK 4000 with a taxes and contributions waiver (until May 1.5.2021, XNUMX)
– Compensation of 10 euros per square meter of space for rent costs.
– COVID-19 lending with state aid to ensure liquidity (HAMAG BICRO liquidity loans for three or five years with additional targeted guarantees and a moratorium on credit obligations for entrepreneurs in lockdown).
Another model compensation provides:
– Payment of salaries of business owners in addition to those of workers – 50% of last year's figure in the form of a direct grant from which workers are paid by being exempt from contributions.
– Exemption from all fixed obligations during lockdown at all levels of government (rents, utilities, garbage collection, water charges, monument rent…)
– VAT reduction – a permanent topic in the context of the possibility of opening space for new reserves when businesses resume and with the aim of boosting competitiveness (harmonization of rates with EU countries that have introduced VAT reduction as one of the measures to combat the Covid-19 crisis)
– Exemption from parafiscal charges – as a special cost that additionally burdens employers.
The new measures provoked angry reactions from entrepreneurs, with the president of the Voice of Entrepreneurs Association (UGP) Hrvoje Bujas warning that the private sector was gearing up for a round of strikes.
"There is always a plan B. If we don't really find a happy medium, the UGP as the umbrella association of entrepreneurs, but also a branch of private entrepreneurs counting more than 13,000 members including additional partners such as truck drivers, bus drivers, hairdressers, beauty salons, fitness centres and retail, is actually ready and willing to go out and make a blockade and organize protests so that everyone knows that the private sector was and is not made up of second-class citizens. We are equal, just as important as all other citizens," Bujas said for Nova TV.
Asked if that also meant a roadblock, Bujas clarified: "If nothing else remains, this is what will happen."
Bujas says that 100,000 jobs are in jeopardy at the moment, and if such measures are extended, the number will grow. /ibna