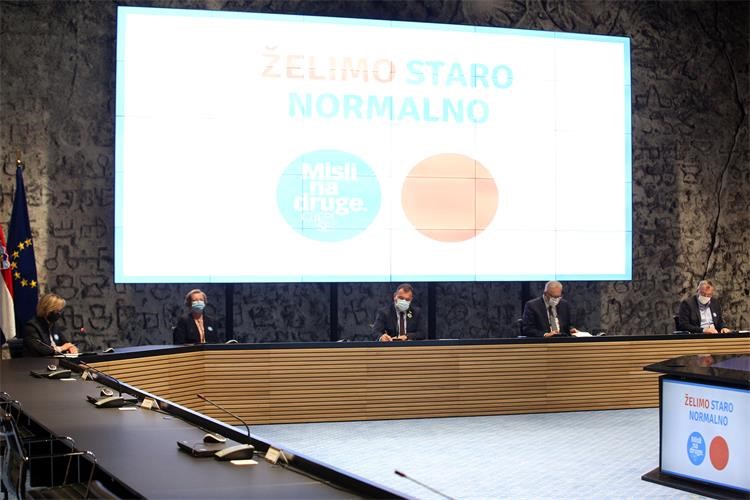 As the number of newly infected continuing to drop, the national COVID-19 response team has announced further relaxation of measures. As of Friday, May 28, mitigating measures against the coronavirus will take effect in Croatia, more than 100 people are allowed to gather, the ban on private gatherings will be lifted, and public gatherings will last until 11 pm, National Civil Protection Headquarters announced on Wednesday.
According to new measures, more than 100 people are allowed to gather in one place. The ban on private gatherings and ceremonies is lifted. Public events and gatherings of all kinds can last up to 11 pm. There are no more restrictions on the number of people at funerals, but expressing condolences is prohibited.
Bakeries can now work until 11 pm. Alcohol can now be served between 6 am and 11 pm and hospitality facilities can work in the same period.
Restaurants and all hospitality facilities that fall under the restaurant category, which can be pubs and cafes, can serve food indoors, as long as they meet minimum technical requirements.
Wedding ceremonies with 120 guests may be held with the obligation to provide information on the place and time of the event and to follow special instructions, and if all persons present have received a second dose of the vaccine more than 14 days ago, or have recovered from COVID, or tested negative in last 48 hours.
The 40 per cent passenger capacity limit on public transport is now lifted. The obligation to wear masks on public transport remains.
Concerned to border crossings children up to 12 years of age travelling with parents who have been vaccinated or have recovered from COVID or have a negative test do not have to have a negative test or go into self-isolation.
The next review of measures will be made in the middle of June.
In the past 24 hours, Croatia has registered 538 new coronavirus cases and 21 deaths related to Covid-19, the National response team reported on Wednesday. There are currently 3,112 active cases in the country and 1,034 hospitalised patients, 102 of whom are on respirators.
A total of 1,988,226 people have been tested for COVID-19, including 6,830 in the past 24 hours.
As of 25 May, 1,608,291 doses of COVID-19 vaccines have been administered; with 1,197,164 people have received at least one dose and 411,127 having received both shots.