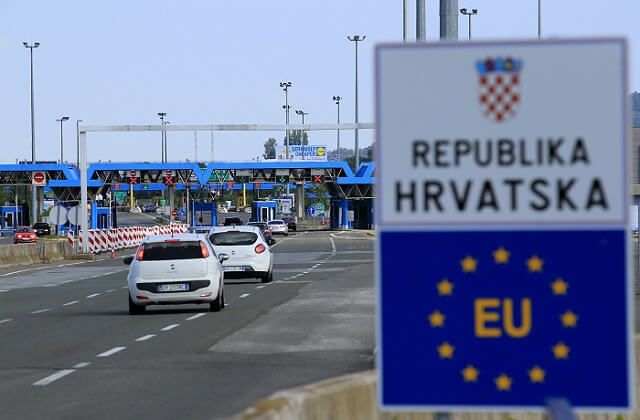 The Civil Protection Headquarters of Croatia has made a decision on Wednesday to ease entry measures at the border for citizens of European Union countries and Schengen member states.
With the new decision, EU citizens and citizens from Schengen member states will be able to enter Croatia with one vaccine shot if the dose was received more than 22 days ago, the Croatian Tourist Board confirmed. Prior to today's decision, a vaccination certificate showing the final dose taken more than 14 days ago was required.
"Croatia has continuously implemented various epidemiological measures and preparations for this year's summer season and the rest of the tourist year, and we now have the opportunity to gradually accelerate the flow of tourist traffic. The EU tourism market is extremely important because these are countries that make up more than 80 per cent of foreign tourist traffic in Croatia. With all the steps we have taken since the beginning of the year, the Safe stay in Croatia project, setting up additional points for testing tourists, co-financing tests and vaccinating workers in the tourism industry, creating conditions to strengthen our recognisability as a safe destination and generating increasing demand. In the coming days, we will continue to communicate intensively with many countries about border crossing procedures so that tourist flows can take place as well as possible and so that our guests can start enjoying Croatia as soon as possible," the Minister of Tourism and Sports Nikolina Brnjac pointed out on the occasion of the decision.
According to data from the eVisitor system, tourist traffic from the European Union and Schengen member states accounted for about 80 per cent of the tourist traffic of foreign nationals in pre-pandemic times, while last year it reached as much as 90 per cent of total foreign national traffic.
During the last ten days, the tourist traffic has been continuously growing, so last weekend the number of 100.000 tourists in one day was exceeded for the first time, with the most numerous guests in Croatia currently being from Germany (55.000), Austria (8.500), Poland (8.000) and Slovenia (6.000).
From January to the end of May, more than 1 million arrivals and 3,9 million overnight stays were realized in Croatia, which is an increase of 42 per cent in arrivals and 38 per cent in overnight stays compared to the same period last year. Of the total arrivals and overnight stays, foreign tourists realized more than 516.000 arrivals and 2,5 million overnight stays. In May alone, there were 451.000 arrivals and 1,9 million overnight stays, an increase of 412 per cent in arrivals and 256 per cent in overnight stays compared to May last year. Significant growth was especially achieved in the nautical segment, ie the charter segment, where a total of 183.000 overnight stays were recorded, ie an increase of over 1500 per cent compared to the same period last year.