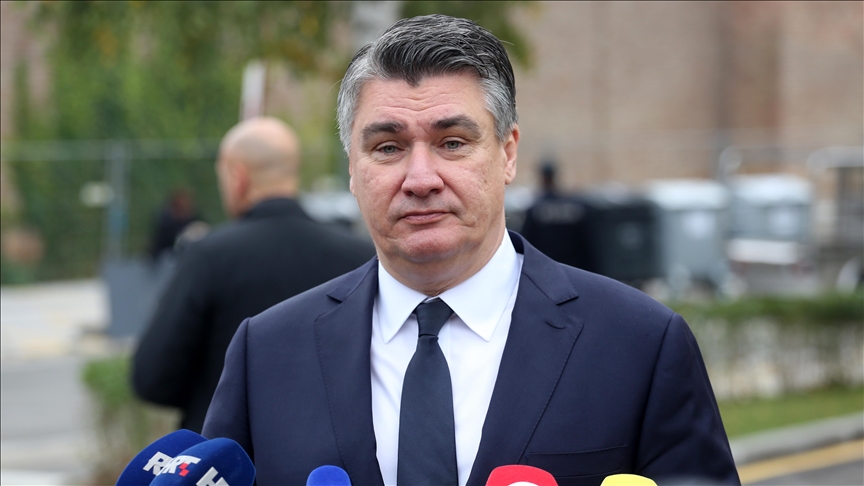 Serb member of the BiH Presidency Milorad Dodik's proposal for the presidents of Croatia, Serbia and Turkey to act as mediators in talks on Bosnia and Herzegovina's future is "well-intentioned but unrealistic" since it is opposed by the other two members of the BiH Presidency, Croatian President Zoran Milanović said on Monday.
"Dodik's initiative is well-intentioned. The intention is compliance with the Dayton Agreement which is persistently violated by certain people and political camps when they accuse Croatia of a criminal enterprise," state agency Hina cited Milanović address to media in Split.
"And of the three BiH Presidency members, two have been doing so actively and on a daily basis," he said, in reference to the Croat Presidency member Željko Komšić and the Bosniak member Šefik Džaferović.
Komšić, who is currently Chairman of the Bosnia and Herzegovina Presidency, on Sunday resolutely dismissed Dodik's proposal for the presidents of Croatia, Serbia and Turkey to join in negotiations on ways to resolve internal issues in Bosnia and Herzegovina.
"I don't see how the two countries that have carried out an act of aggression against Bosnia and Herzegovina could today have greater international credibility than the United States, Great Britain, Germany, France, the EU, UN or Russia for that matter, which witnessed the signing of the Dayton Agreement," Komšić said in response to Dodik's proposal.
"I do not believe that Dodik's initiative is realistic because it requires general consensus," Milanović said, and added that "when someone says that you are a criminal and that you want to annex a part of Bosnia and Herzegovina, that means that they do not trust you."
"But when Alija Izetbegović received the highest state decoration from Franjo Tuđman, that was all right, while a few years later his successors and political partners are saying that we wanted to carve Bosnia and Herzegovina up. They should reach an agreement on their own, and meanwhile, they should refrain from violating the rights of the constituent peoples, primarily Croats," Hina quoted Milanović as saying.
Dodik's initiative is aimed at pointing out that the current situation in BiH is unsustainable, said Milanović.
"We do not need a new Dayton Agreement, we just need to respect the existing one. The Dayton Agreement has not failed, it is not respected and is violated. If it were respected, everything would be all right," he said.