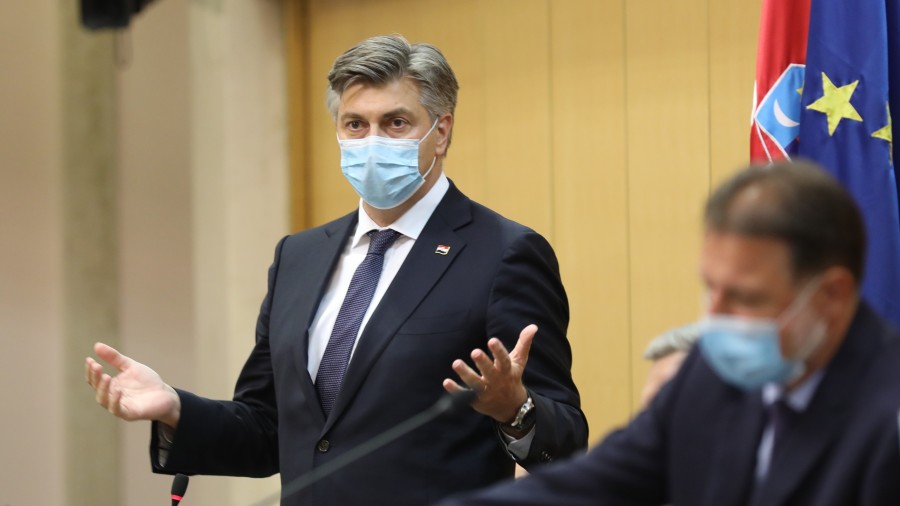 The Croatian Parliament started its new, 4th session on Tuesday adhering to special epidemiological measures.
At the beginning of Question Time, Parliament Speaker Gordan Jandrokovic asked lawmakers to be responsible and show solidarity to each other so that they can do their job properly.
Due to measures of protection against coronavirus, some deputies will sit in the Grand Chamber while others will be dispersed in five other meeting rooms. Also, those who are coronavirus positive or in self-isolation will participate in debates via video-link.
In an effort to minimise the possibility of the infection spreading, the parliament will have a 10-minute-long break every two hours so the chamber and meeting rooms can be aired out.
During Question Time on Tuesday, Prime Minister Andrej Plenković said that the strategy for containing coronavirus is "rational, adequate and proportional", to the ongoing epidemic, while SDP MP Sabina Glasovac said that she had the impression that there was no strategy.
"My impression is that there is no strategy at all in the fight against coronavirus. It seems that the corona crisis caught you unaware. You did not prepare anything, capacities are insufficient and the system is facing collapse," said MP Glasovac of the opposition Social Democratic Party, while asking how it was possible that Slovakia managed to test 2.5 million citizens in one day while testing in Croatia was slow due to insufficient amounts of reagents, a lack of testing points and staff.
The Prime Minister responded that each country chooses its own strategy and Croatia's strategy is "rational, adequate and proportional to the dynamics at which the epidemic is developing".
"We are aware of the health reasons and needs to ensure that the state, society and economy continue functioning. We make decisions at the level of the government and (COVID crisis) response team proportional to what is currently occurring and that is how we will continue to fight the epidemic," he said in the national parliament.
"The only way to resolve this is to be responsible, to coordinate activities with other partners, to find a consensus in society in the fight against Covid-19," the premier said.
On Monday, Plenković said that the introduction of curfews had never been discussed, adding that Croatia was not in a state of emergency and that a complete lockdown was not an option.
"Curfew – it has never been discussed. Lockdown in a variant that would be a complete lockdown and restriction of work, the inability to leave a city, county or municipality without passes is not an option", Plenković told reporters.
He added that other European countries have not resorted to the same type of restrictive measures as in the spring.
The effect of such measures on the economy, financial situation and entrepreneurial spirit in society, he said, would not be good, but its effects would be exclusively negative./ibna