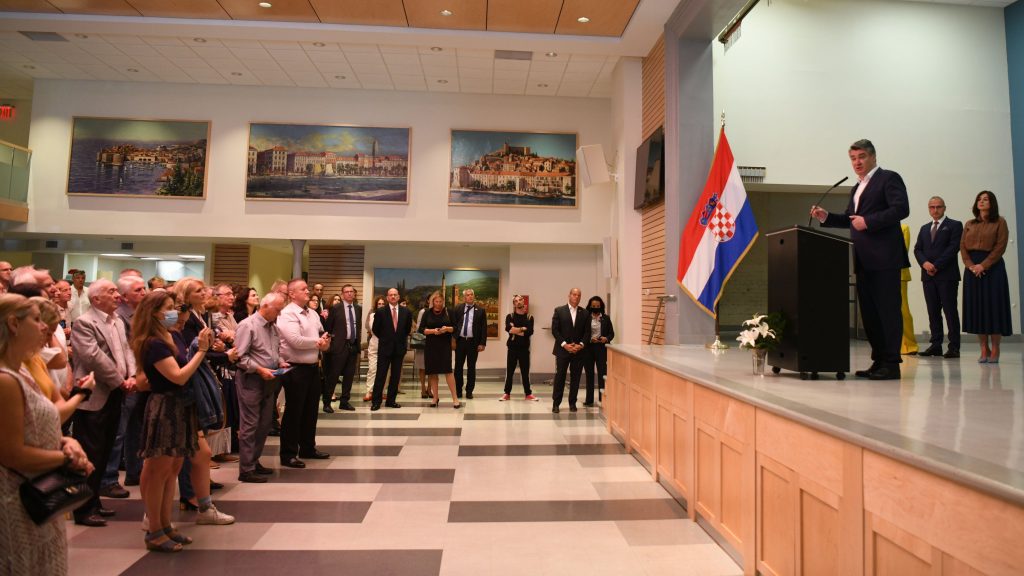 "The President of the Republic of Croatia Zoran Milanović will attend the 76th United Nations General Assembly. Upon his arrival in New York, he commented on the topics that will be featured at the General Assembly session. Asked if he will talk about themes such as global recovery in the aftermath of the COVID-19 pandemic, Afghanistan, North Korea, Iran, President Milanović stated: "I don't think I'll be speaking about that, we must orient ourselves more on what concerns us and what means life to us, and that is Croatia and the area in which we live, Europe".
Milanović announced several bilateral meetings including one with the Turkish president. "Serious issues for us are developments at home, in the region, in the neighbourhood, issues we have discussed in the past few days", Milanović noted.
According to Milanović cabinet press release, as for the coronavirus pandemic he said that in New York there is already the post COVID period since many people have been vaccinated. "Not that many of our people have been vaccinated. I have been saying this for months; it is time to start living normally. If someone doesn't want to get vaccinated, they are not a threat to me, I start from myself, this should be understood and we should start living normally because we will not be able to eradicate this virus", Milanović said.
Croatian President Milanović began his stay in New York by visiting the St. Nikola Tavelić Croatian Centre in the scope of the Sts. Cyril & Methodius and & St. Raphael Croatian Catholic Parish and a meeting with representatives of the Croatian community in New York.
In his address to the Croatian community representatives, President Milanović talked about his view of Croatia saying that the state is not just a platform to promote some kind of exaggerated pride. "We love our state, it is ours, and the best ones have fallen and laid down their lives for it. A small number of people fought for Croatia that is a member of the European Union today, it is not without problems, doubts, fears, and it is attempting to find its right path. Today we are in that European Union and that is good for us, but as a small nation, we must get the most out of it, be selfish and fight for our interests", President Milanović stated.
Regarding the themes that will be discussed at the UN General Assembly session, President Milanović said that he was more interested in developments in Croatia and its neighbourhood. "I'm interested in knowing how you live, are you content and are you planning to return to Croatia, I'm interested in how Croats in Bosnia and Herzegovina are living. I cannot do a lot, but as President, my voice is heard in the region, analysed and criticized, but I will go on," the President said.
In that sense he expressed discontent with developments in the region saying that Croatia is a factor of stability that others are trying to undermine. "Fortunately, it's no longer 1990, there's no threat of a serious conflict erupting. However, we must watch what is happening in our immediate surroundings. People there are behaving as if there was no war and that they have not learned a lesson from what happened in 1990. In all of that, Croatia and the incumbent government, I as President, and my predecessor are the calmest, the most conciliatory and most rational. We are responsible for keeping the region peaceful, safe and for life in Croatia to stay normal and safe. Croatia is a very safe country," President Milanović underlined.
"Paradoxically, regardless of disagreements in Croatia on a daily basis, in fact our country has never been more stable. What is essential is for it to be even better and that we absorb every possible euro that is available in European funds. By entering the European Union we gave up a good share of our legitimacy and sovereignty, it is a major decision that commits generations; it is not without negative consequences. Otherwise the European Union for us has no deeper sense", the President added.
President Milanović concluded his address to the Croatian community in New York with the following words: "Thank you for the cordial welcome. I wish you to stay in good health. Long live our homeland that is your homeland too! I won't say that the door is always open for you because it is your house as much as mine".