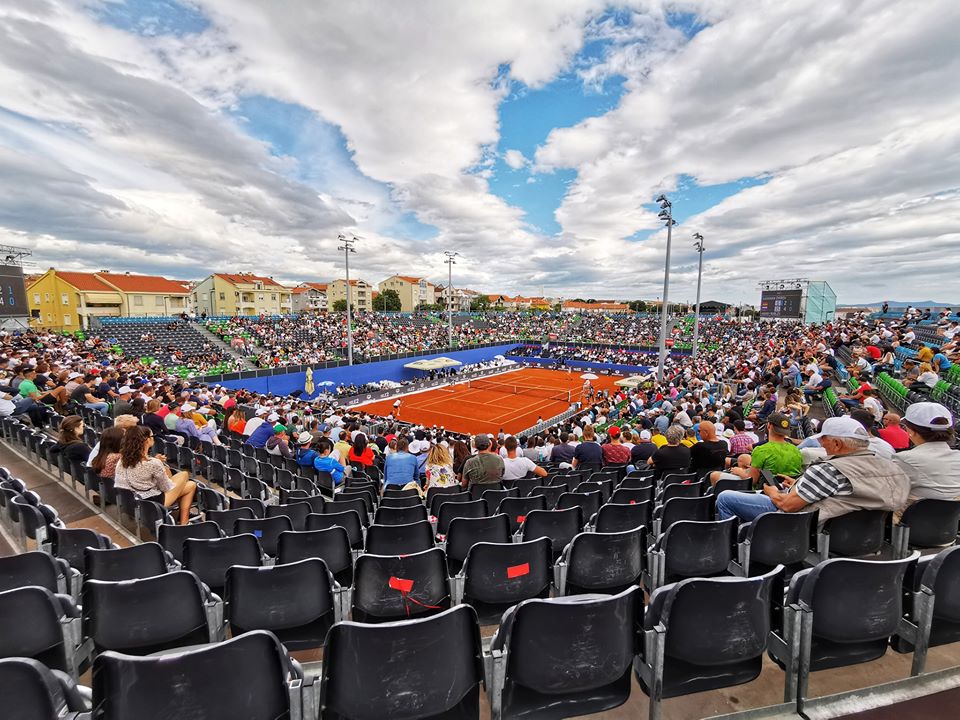 After tennis player Grigor Dimitrov, who played in the Adria Tour tournament in Zadar, tested positive for coronavirus, three more tennis players were diagnosed with COVID-19, the head of Zadar's local COVID-19 crisis response team, Šime Vicković, told the national broadcaster (HTV) on Monday morning.
The commercial N1 broadcaster reported that one of those positive cases is Croatian tennis player Borna Ćorić. Novak Đoković refused to be tested in Croatia and left the tournament for Belgrade.
Just a few days ago, Zadar city authorities welcomed the tournament saying that it will improve the image of tourism in Croatia.
"The Adria Tour, which is being held in Zadar currently, is a big event for Croatia that we are extremely proud of. We are grateful to Goran Ivanišević, who is the coach of Novak Đoković and the director of the tournament in Zadar. The cooperation between him and us as the Croatian Tennis Federation, vice presidents Neven Nakić and Franc Regina together with other federations through the ITF, created good relations and offered us the Adria Tour in Zadar", said the president of the Croatian Tennis Federation Nikolina Babić.
Ćorić confirmed the news on his Twitter account and called on all persons who have been in contact with him in the last few days to get tested.
Ćorić says that he is sorry "for any harm" he might have caused and added that he is feeling well and has no symptoms.
Apart from Ćorić, Marko Paniki, who is Novak Đokovic's fitness trainer, and Dimitrov's coach Christian Groh, also tested positive, the tournament organisers have explained.
Vicković was quoted as saying that since the news broke about Dimitrov's infection last night, 1,023 people had been tested. All necessary steps have been taken to organise the self-isolation of the suspected cases, according to him.
According to the latest information released by the Zadar epidemiological team on Monday morning, four tennis players and two coaches have been so far diagnosed with coronavirus.
Dimitrov arrived in Zadar a few days ago after he participated in the Belgrade leg of Novak Djokovic's Adria Tour tennis tournament. During his stay in the Croatian seaside resort, he played tennis and basketball with other participants in the Zadar leg of the tournament.
On Sunday afternoon, Dimitrov posted on Instagram: "Hi Everyone-I want to reach out … and friends know that I tested positive back in Monaco for Covid-19."
"I want to make sure anyone who has been in contact with me during these past days gets tested and takes the necessary precautions. I am so sorry for any harm I might have caused. I am back home now and recovering. Thanks for your support and please stay safe and healthy.," says the Bulgarian tennis player.
The final match of the Zadar event, set for Sunday evening, was cancelled as a precautionary measure.
Ten children and six adults from the Tennis Club "Karlovac", from the city of Karlovac in Central Croatia, were tested for coronavirus on Monday morning and were given self-isolation after returning from the Zadar Adria Tour on Friday, where a COVID-19 infection appeared.
After yesterday's information about the appearance of the virus at the tournament, the Karlovac Institute of Public Health decided on testing, which was completed this morning, as a precautionary measure.
Regardless of the outcome of the testing, both the tennis players and their entourage go into self-isolation for 14 days and their health condition and the condition of their family members will be monitored, the epidemiologist on duty told Hina.
On Sunday night the civil protection authority issued the following statement:
As we received information that tennis player Grigor Dimitrov who played in the Adria Tour tennis tournament in Zadar was positive for coronavirus, we ask all those who were in close contact with him for more than ten minutes to go to self-isolation for 14 days and contact the competent epidemiologist in the place where they reside, or to their family doctor.
Residents of Zadar County who suspect an infection, ie who have been in close contact with a tennis player, should contact the epidemiologist on duty and their doctor.
From tomorrow, the Zadar Public Health Institute will introduce an additional telephone line and additional duty teams.
We would like to remind you once again that epidemiological measures are in force, which include maintaining social distance, which is the most important in preventing the spread of coronavirus, and that we must be responsible./ibna