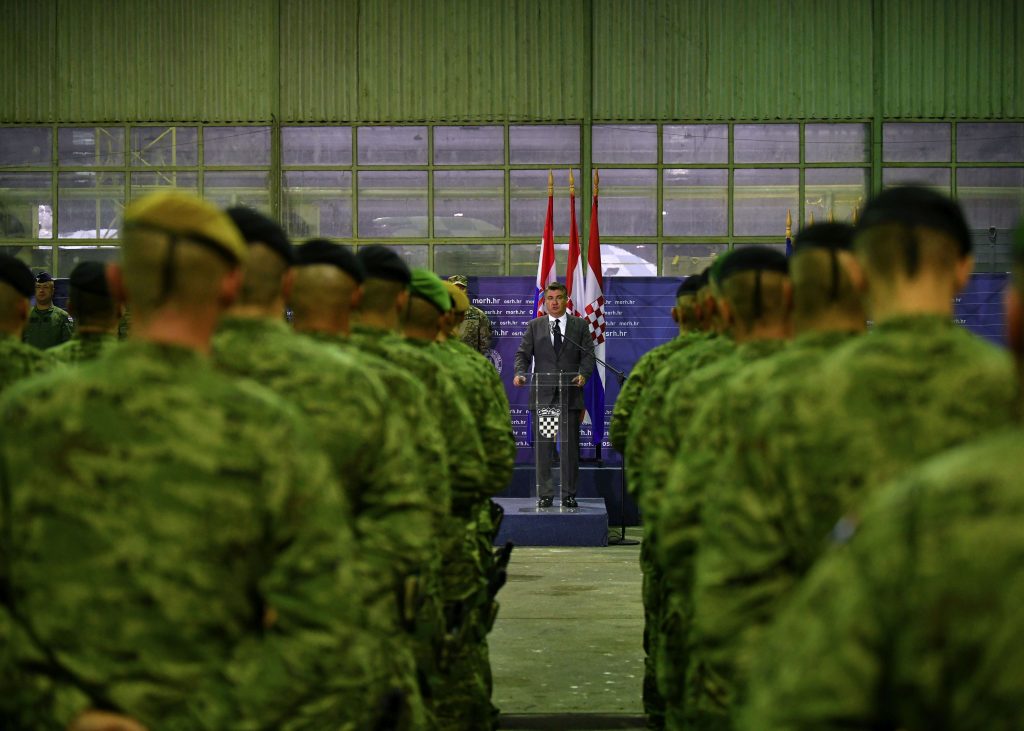 The President of the Republic and Commander in Chief of the Croatian Armed Forces Zoran Milanović took part in a homecoming ceremony for the 12th Croatian Contigent (HRVCON) returning from the Resolute Support Mission in Afghanistan, President Office announced.
In his address to the troops, President Milanović said that "after seventeen and a half years it is time for the Croatian troops to come home". The President of the Republic recalled that the members of the Croatian Army have participated since 2003 "in one of the most delicate missions of its kind in history. The NATO mission, which was a continued showdown with terrorist groups in Afghanistan following the terrorist attacks in the United States of America, was substantiated by a Resolution of the United Nations General Assembly. Therefore, Croatia, as a candidate for NATO membership, with a precise legal framework in 2003 decided for the first time to take part in a mission of this kind. We did not want to dispatch troops to Iraq. Like many other countries we had certain legal and political obstacles. However, in the case of Afghanistan, we decided almost instantly, very quickly, there was no dilemma".
President Milanović reminded that as Assistant Minister of Foreign Affairs of the time he had actively participated in laying the groundwork for that decision, which was ultimately made by the political leadership.
"Seventeen years later, I feel – and I think that the majority of our people feel this way because the Croatian Army is the army of the Croatian people, the Croatian State – that this mission is slowly drawing to an end and that there is no longer a need for the Croatian Army to be so far away from home. The experience you have acquired there, you and all your predecessors, your colleagues and friends, Croatian soldiers, is valuable. This experience fortunately or unfortunately is not war experience, which is something you do not wish to anyone. Because what Croatia has gone through twenty-some years ago – and many still remember or have participated in it – is another kind of experience that probably no one or almost no one you have met has had. This is now a more peaceful time. The army has to participate, cooperate with others, position itself in the world it lives in to see how good it is, what others are better at, what it is better at. Therefore this type of international military cooperation and participation will continue in one form or another. Somewhere else, perhaps somewhere nearby, but the Afghanistan story has come to an end. In some way I am glad", President Milanović said, and expressed his regrets for the tragic death in Afghanistan of the Croatian soldier Josip Briški.
"I regret the loss we had last year. However, our women and men are coming back alive and well to their families. I wish you all the best, the best of health, that you continue doing this special job, this calling; I wish that you advance in it, that you develop professionally. That you be faithful and loyal to the Homeland goes without saying, you know that. Because if it were not so, you would never have accepted such a line of work and lifestyle. Once again, thank you so much! You were the pride of Croatia. You accomplished an important task. It has all been noticed, seen, written. That is Croatia's reputation and you have contributed very constructively to this reputation. Once again, I thank you so much and wish all the best to you and your families!", the President of the Republic concluded./ibna