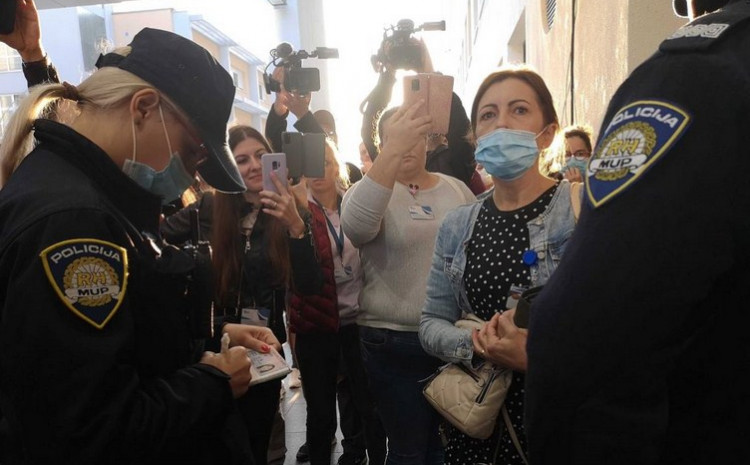 For the second consecutive day, a group of citizens gathered at the entrance of the Zagreb hospital to protest against new anti-Covid measures introduced by the government.
The government imposed the rule that every employee in the health system must have a Covid certificate. According to Health Minister Vili Beroš, among employees who were tested on Monday, at least 20 were positive. That, as he said, shows that the measures are good and must be implemented.
On Tuesday morning police controlled protesters in the front of the hospital. They asked to enter the hospital but the police refused and protesters did not try to enter by force. An hour later, they left and said that the protest will continue. Protest is organized by groups, which consider the vaccination cannot be mandatory and that nobody can demand a Covid certificate as the condition for the work.
On Monday, the protest escalated when Health Minister Beroš came to follow the implementation of the new measure. The Minister of Interior Affairs, Davor Božinović, said on Monday evening that the protests in Zagreb and Split, with the same message, were not been announced in line with rules and that even if they had been, they would not have received a permit.
"I would not say those were large protest rallies. They were staged at just a few locations in Croatia," Minister Božinović said in Nova TV's news programme on Monday evening.
He said police were working on identifying those people and that they had requested video surveillance footage, noting that the procedure is clear if it's proven that they violated the law.
Minister Božinović said the deadline for free testing against coronavirus had not been set. "I don't understand that people who choose the health profession have a problem with elements of medicine, and it is certain that public health and vaccination have helped us all to be on the planet today and live our lives," he said.