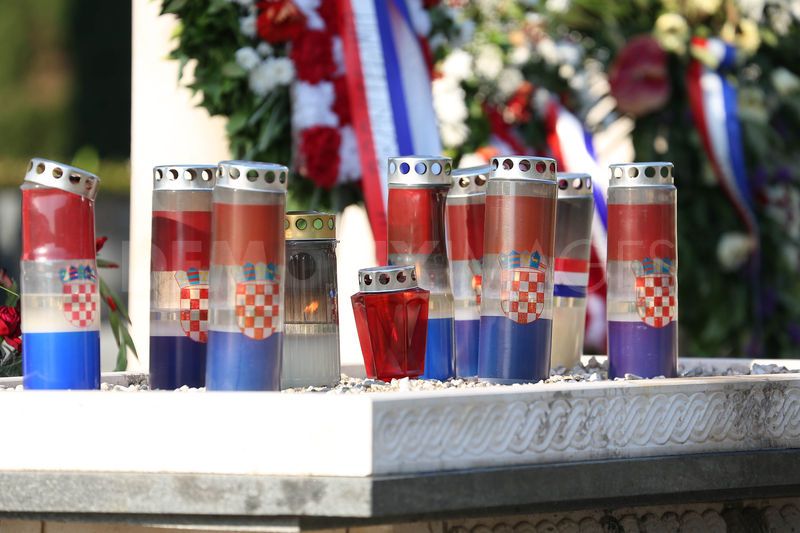 By Marija Avramovic – Zagreb
On Sunday Croatia celebrated the Anti-Fascist Struggle Day by commemorating the founding of the first armed antifascist forces in Croatia during the Second World War – First Sisak Partisan Squad, which was established June 22, 1941 in the forest of Brezovici near Sisak.
The troops, whose establishment marked the beginning of an organized anti-fascist struggle in Croatia, in which  actively participated more than 500,000 Croatian citizens, initially had 77 fighters and only 38 of them lived to see the end of WWII.
The celebration began with high officials laying wreaths in front of the monument of First partisan squad. Besides the entire state leadership, the central ceremony was attended by representatives of (Antifascist Union of Croatia) Sabha, local authorities, as well as personalities from the cultural life of the country, such as the world renowned actor Rade Serbedzija.
President Ivo Josipovic , standing close to where the recently destroyed monument  of Fran Kršinić "Uprising" was, called for the renewal of 3,000 anti-fascist monuments in Croatia which were devastated over the past 20 years, with only a small number of them having been restored. The Ministry of Culture claims that it restores monuments to the best of their ability and resources, since in the last ten years just under four million kuna (527 thousand euros) has been allocated for this propose through a public call for funding programs.
"There were talks how the history is being falsified and forgotten and how the monuments of anti-fascist struggle are destroyed, but we are here and we are the evidence that this will not happen again and that history will not be forgotten. But, are we doing enough?", asked Josipovic and urged to all those present at yesterday's celebration to, starting Monday, "go back to our offices and work on what  we are talking about today."
Josipovic  congratulated all Croatian citizens Anti-Fascist Struggle Day, calling it one of the most important days of the Croatian history.
Prime Minister Zoran Milanovic in his speech, called the Ustasha movement (Croatian fascist and terrorist organization) "a mistake which should always say – with which we're not connected because we have nothing to do with it!", while the he referred to the partisan movement as "patriotic, freedom-loving and human".
He pointed out that Croatia showed that it knew how to recognize evil and how to confront it and it is for this reason that June 22 is so important. Young people at the time did not know each other, there was no communication, no internet that connects us today. It was resistance, defiance, opposition to something they have felt as bad, Milanovic said, stressing that "NDH (Independent State of Croatia ) is something that has happened, but we have to keep a distance from it".
Milanovic actualized in his speech his view on the history of the Holocaust, which claims that since Kristallnacht in 1938 until the founding of NDH there were no mass executions of people based on their skin color, religion or origin, with the Israeli ambassador in Zagreb Yosef Amrani earlier this year characterizing this statement as falsification of history.
Josipovic also presented awards for outstanding contribution for the anti-fascist foundation of Croatia during the 73rd anniversary of the uprising of the Croatian people and the 69th anniversary of the victory over fascism.
"Icing on the cake" were two poems read by Mr. Serbedzija who, after callings for bis, replied: "Gentlemen, gentlemen, as the prime minister and the president  said, now is not the time for encores, because we all have to work tomorrow", wrote the Free Europe on its website.