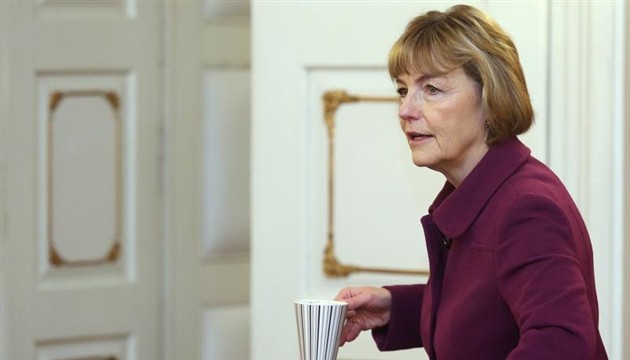 Zagreb, April 2, 2015/ Independent Balkan News Agency
By Marija Avramovic
Croatia wants to normalise the situation with Serbia and calm tensions after ICTY indictee Vojislav Seselj set Croatia's flag on fire in Belgrade and after Serbian minister Aleksandar Vulin disapproved of Croatian Prime Minister Zoran Milanovic, Deputy Prime Minister and Foreign and European Affairs Minister Vesna Pusic, said on Thursday.
Asked about Croatia's further steps towards Serbia, Pusic anticipated that calming tensions would be the next step, adding that a borderline anomaly from the past such as war crimes indictee Seselj is not important now, but that relations between Croatia and Serbia were important.
The Minister also stated that this would not affect Croatia's support to Serbia's entry into the European Union.
Croatian Ambassador to Serbia Gordan Markotic has been summoned to Zagreb for consultations, following an incident which Seselj caused earlier in the day by setting a Croatian flag on fire outside the Hall of Justice in Belgrade.
Minister of Justice Orsat Miljenić, just before today's government session, said that a similar act in Croatia would have initiated criminal proceedings against the perpetrators and that he did not know how Serbian authorities would react, stressing that Serbia must act according to its laws.
Pusic said that Croatia had primarily reacted to statements made by a member of the Serbian government, Labour Minister Aleksandar Vulin, about Croatia, General Ante Gotovina, and Prime Minister Milanovic, adding that summoning the Croatian ambassador for consultations was a message that such rhetoric was truly damaging to relations in the region and for relations between the two countries.
Yesterday's statement by Serbian Prime Minister Aleksandar Vucic indicates that Serbia as well trusts that strains should be slacken, Pusic said, adding that in her opinion, Serbia too want to normalise relations with Croatia.
Vucic said on Wednesday that the incident caused by Seselj sent a bad message about Serbia and he called for calming tensions, adding that he would talk on the phone with Croatian PM Milanovic so that they could call on members of their governments to act appropriately.