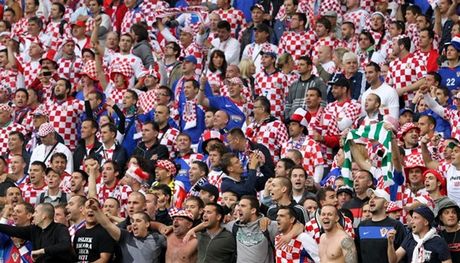 Zagreb by Natasa Radic
It has been a historical match, but then, every time Croatia and Serbia play football, sports' analysts call it "historical". This Friday evening in Zagreb (March 22nd) Croatian kockice (chequerboard) won 2:0. The result opens widely the doors to World Championship in Brazil in 2014. for Croatian football team while Serbia finds itself in troubles.
The match did not show high quality but it showed a lot of passion. The Maksimir stadium was full – fans queued for tickets months ago –  and 35 thousand people cheered for Croatia. Serbian fans were banned from the match – and Croatian fans will not be able to travel to Belgrade in September for re-match. Security checks were tight and the police was patrolling in the eastern part of the city but there have been no incidents. According to Jutarnji list daily sports analysis, the best player was fantazista from Real Madrid Luka Modric, while Mario Mandzukic scoared the first goal in 23rd minute of the game. Exactly 14 minutes later, Ivica Olic brought Croatia to 2:0.
-I said to my players to give the best of them. This is the generation that can go all the way, they stand the pressure and they are approaching their aims and goals carefully – said Igor Stimac, Croatian national coach after the match.  Due to high tension that always follow the games between Croatia and Serbia, both teams were trying to calm down the situation and concentrate on the game. Croatian President Ivo Josipovic invited his former collegue, ex President of Serbia Boris Tadic to watch the game together in Zagreb even though Tadic was disappointed at the end.
"Croatia was a better team and they deserved to win. It is obvious they have more experience. We were a little bit scared when we started and the goals we received where the cheap ones", said national coach of Serbia Sinisa Mihajlovic.
Croatia plays against Wales on Tuesday.