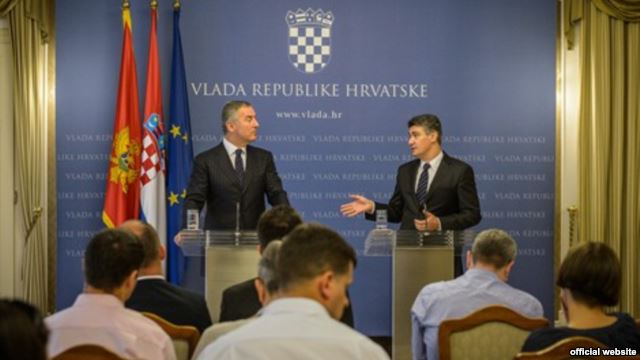 By Marija Avramovic – Zagreb
Croatian and Montenegrin prime ministers Zoran Milanovic and Milo Djukanovic have agreed to do everything so that the research for oil and gas in the southern Adriatic sea begins as soon as possible, without prejudging the future border at sea.
At a joint press conference held yesterday in Zagreb, while Djukanović was in official visit to Croatia, Milanovic stated that the two countries' priority is to go through with the oil and gas exploration in the waters of the Adriatic.
"This is the first and most important question. The deal is that we will do absolutely everything we can for the research to start as soon as possible and not to allow any misunderstandings in the interpretation of the maritime border stand in the way. We will seek a compromise solution, without prejudging the future border, since any disputes are secondary to the main goal – to introduce interested corporations in this part of the Adriatic", said Milanovic.
In an  interview for television HRT4, Djukanović said that during the talks with Croatian officials they discussed how to encourage economic cooperation and to enhance the conditions for the effective and faster exploitation of the resources the two countries have in their waters.
"For Croatia and Montenegro it is very important to have a dynamic economic growth and thus reduce the inherited economic backwardness of developed Europe, while at the same time create the conditions that, regardless of the unsolved border issues in the region, will  ensure the start of research activities", Djukanovic emphasized.
Milanovic also said that Croatia sees Montenegro as a member of NATO and that Montenegro has met the technical requirements for membership so it should be admitted to the Alliance. He assumed that the Prevlaka issue will be settled by arbitration, but stressed that this dispute is not big enough to stand in the way of Montenegro accession to the EU.
"We are helping you along this path out of hart, but also because it is best for the security in the region", Mlanovic stated.
The two prime ministers see to further the two countries' collaboration with a possible cooperation between the national airlines, the enhancement of the capabilities of the transport connection in the road network, completion of the Adriatic-Ionian motorway, as well as other forms of cooperation.
During his visit to Croatia, on the eve of NATO conference in Wales, Djukanovic also met with Croatian president Ivo Josipovic and the president of Croatian Parliament Josip Leko, who also expressed their support to Montenegro on its way to Euro-Atlantic integration.
After meeting with representatives of the Montenegrins in Croatia, Djukanovic departed for an official visit to Sarajevo.