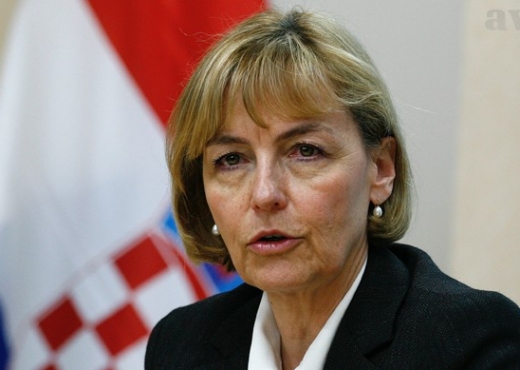 Zagreb, July 23, 2015/ Independent Balkan News Agency
Review Hari Stefanatos
Croatian foreign minister Vesna Pusic informed the Media in Croatia of the government's intention to notify the European Commission on Thursday, in regard with the allegations that Slovenia has violated the impartiality and independence of the border arbitration procedure, and its intention to examine every option, even to walk out of the arbitration.
Despite the fact that the EU with a statement Wednesday took distances from the procedure, Pusic said Croatia deems it necessary to notify the EU, because in a way it mediated the arbitration agreement, as well as the procedure itself, "but we will deal with our problem ourselves".
The Croatian FM reiterated that the impartiality and independence of the adjudicators was a fundamental value of the arbitration tribunal and that Zagreb will examine all the allegations and facts and consider every option.
"After establishing the facts and evaluating the situation, we will make decisions, including the possibility of walking out of (the arbitration process) if it is evaluated that (the process) is indeed this compromised", Pusic said, adding that any lobbying was forbidden and that the independence and impartiality of the arbiters was the foundation of the tribunal.
It all started on Wednesday when a croatian newspaper published transcripts of talks between Slovenia's representative on the arbitral tribunal, Jernej Sekolec, and Slovenian foreign ministry employee Simona Drenik, which revealed lobbying with other adjudicators.
"We have established a very worrying situation regarding the regularity of the arbitration process," she said, adding that this latest development have nothing to do with the arbitration agreement.
Asked to comment on Slovenian experts' assessments, Pusic dismissed any responsibility on Croatia's part. "I found out about the whole thing yesterday from the newspapers and I still cannot confirm that it is one hundred percent true. The fact is that this was hidden from the public".
Pusic made it clear that the government will bide its time, given the seriousness of the matter and will decide how to proceed with a "cool head".
Source: Dalje