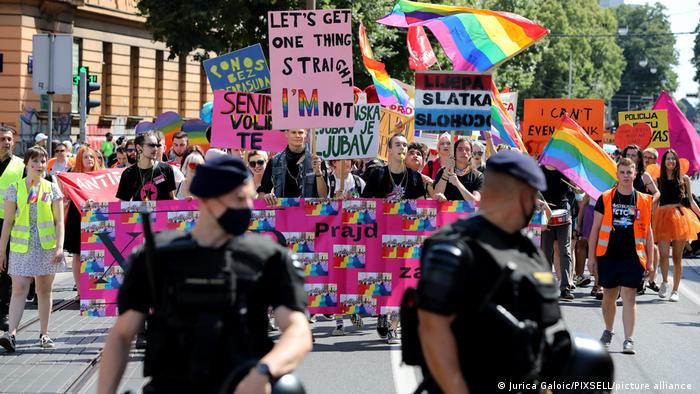 The leader and deputy leader of the conservative populist Most party, Božo Petrov and Nikola Grmoja, announced on Sunday lawsuits against the Zagreb Pride organisation which had earlier accused them of spreading homophobia and inciting division and hatred.
As N1TV reported, Pride organisers issued a press release on Sunday after violence had broken out at the twentieth "Zagreb Pride parade" a day earlier, saying that recent statements by Petrov and Grmoja "without a doubt" have contributed to incidents, including punching participants in the face and a rainbow flag set on fire.
According to the police, five persons were arrested following the attacks.
Last week's statements by Grmoja, in which he has called for addoption of an "antipaedophilic law which would introduce the harshest punishments for paedophiles, but also protect children… from LGBT propaganda" caused uproar in the LGBT community as well as general public.
"Why is there a problem when Grmoja or I express our opinions?", Petrov wrote on his Facebook. "They need to wake up in their Croatia and realise they are the minority and we are tolerating this."
"I will not be dictated to by the minority on what I should teach my children and how I should behave," Petrov wrote.
Their words were met with widespread condemnation and, following Sunday's press release by Pride organisers, Grmoja and Petrov announced they would take legal action.
Grmoja called the organisation's criticism an "attempt at censorship" which equates any criticism of LGBT policies and activist goals with hate and calls to violence.
"I won't agree to that. I will defend my right to free speech," Grmoja wrote on Facebook. "Not just mine, but the rights of all people in democratic Croatia who want to think and speak freely."
Grmoja went on to say that since raising the "topic of early sexualisation of children, the LGBT propaganda and paedophilia in Croatian society", he received more threats and insults than ever in his life, as did his family.
"Professional human rights activists, as expected, have not said a word to protect our rights and defend our human dignity," he added.
Petrov rejected criticism levelled against him as well, saying the has been "exposed to attacks" for days following his statements.
"It is my legitimate right to protect my child by asking that they be educated based on established facts and social consensus," Petrov wrote on Facebook.