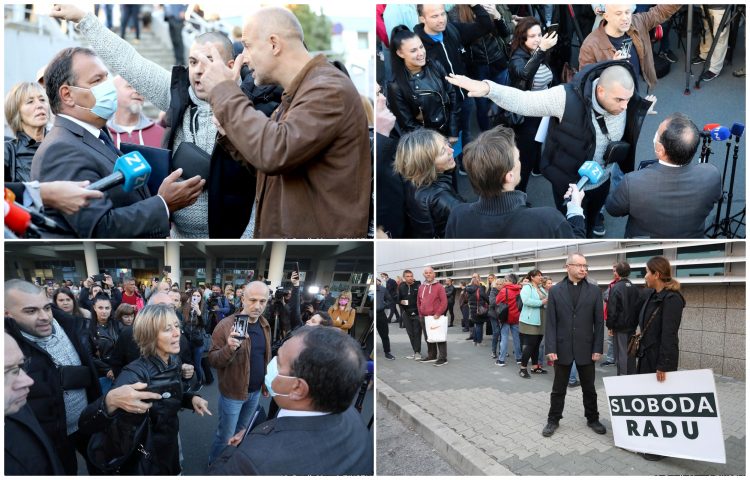 A group of protesters waited on Monday morning in front of KBC Zagreb to protest against the government decision about mandatory EU digital Covid certificates in the health care system.
Vili Beroš, Health Minister of Croatia, came to the hospital at 7 am to mark the beginning of the application of the decision and faced about 50 protesters who stopped him and went into the discussion which, in some moments, was not polite and pleasant.
A few protests have been taking place recently in Zagreb, mainly after Beroš, announced that from now on health personnel in hospitals should present EU digital Covid certificates in order to be able to work. The decision was not well received by a large section of the population, prompting both a large "protest for freedom" in Ban Jelačić Square, as well as a protest led by nurses and other health workers against the measure.
As media reported, around 50 protesters and opponents of the measure gathered in front of KBC Zagreb. The Croatian Health Minister held a press conference at that moment to mark the start of the measure. Among the protesters was a priest, Father Zdravko Knežević who started to shout "Hangman, hangman!".
"Hitler's associates ended up on the gallows. Betrayal, betrayal!", the priest continued and added that the pandemic does not exist.
The protesters, most of whom were citizens and a small number of KBC employees, did not allow Beroš to speak, chanting "shameful decisions", "betrayal" and "resignation".
"No beginning is easy. I allow the right to different opinions, however, in a situation where the virus has been around for a year and a half to deny its existence, numerous deaths and difficult situations are not justified. My task is to ensure the security of the health system and I will try to do so", said Beroš, referring to the protesters.
"As the Minister of Health, my task is to ensure the safety of all service users but also employees. Everyone has the same conditions; there is no discrimination. We do not force anyone to be vaccinated, but testing is what the profession considers the basic condition for safe work, and we do it for the sake of Croatian citizens and our patients", he said.
As of Monday, every employee in the health care system and social care institutions in Croatia must have an EU digital Covid certificate, as well as visitors and accompanying patients. All healthcare professionals who come to work from today must show a Covid certificate, whether they have been vaccinated or have recovered from Covid, while others must be tested twice a week.
A similar protest was held in Split also.