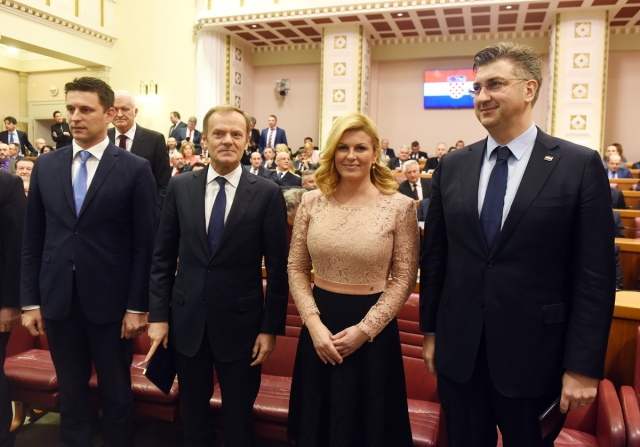 Politically and socially turbulent years and a break up that did not come bloodless.
On January 15, 2018, Croatia celebrated the 26th anniversary of its international recognition and the 20th of the "peaceful reintegration process of the sub-Danube region", notes HRT.
On Monday, the high-level state officials like the President, Kolinda Grabar-Kitarović and the Prime minister, Andrej Plenković spoke of Croatia's achievements and focused on the state's future goals.
Plenković commemorated the first Croatia President, Dr. Franjo Tuđman whose vision led the country to a European and successful path.
On the occasion of the 2018 anniversary, the Croat premier addressed the people, saying: "With pride, we recall the unity of the Croatian people and its determination in achieving its centuries-old dream of a free and independent country," as HRT reports. The PM went on to add, "In the past years, Croatia has achieved key strategic goals, especially membership in NATO and the European Union. We are building a modern and inclusive democratic society in which the highest values of Western democracies are respected. Encouraged by positive economic trends and results, the government is turned towards the future and will continue to implement structural reforms in order to better standards for Croatia citizens and build a prosperous Croatia".
Kolinda Grabar-Kitarović, underlined the important meaning of Croats efforts to preserve their identity through the centuries: "During their long history in mutual countries from the middle ages to modern times, the Croatia people have successfully preserved their statehood and the institutions of Ban and the Croatian Sabor (parliament). The centuries-old desire for an independent country, as their historic and natural right, was finally achieved in 1991 on the basis of the will expressed in a national referendum on May 19th and a decision by Croatian Sabor on June 25th and October 8th, 1991."…/IBNA
Photo (Library): EU