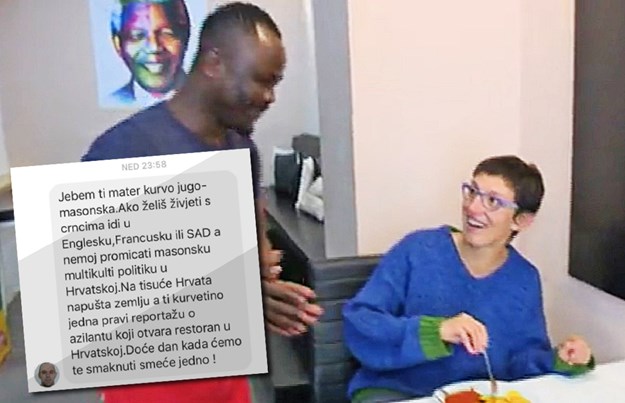 Journalists and their reporting are often in the centre of the eyewall, either because they are seen as a pester to governments, regimes or certain lobbies or because their work is disliked by "trends" that each time are popular (mainly and usually) in the social, political and economic spheres of societies. Some of the countries where there are characteristic examples of reporters' (not only investigative) silencing are Mexico, Russia and Turkey (according to international sources).
Croat misogynistic example, despicably unfortunate bad-mouthing or extreme action with political affiliations?
One of these current "trends" that wants us, human beings, to hate each other more and more as time goes by and bigotry to become the queen of queens on our life's chessboard, dictates that anyone who is not native to a land has no right to progress, especially so if their skin colour does not… fit.
Croat journalist, Maja Sever of Croatia's public broadcaster HRT, received a death threat via a rude and revengeful Facebook message after a report she did on an African refugee who arrived in Croatia in 2011 and recently opened a restaurant in Zagreb.
Her mistake, the report. Prince Wale Soniyiki's mistake from Nigeria, the opening of a business in the Croatian capital, where African cuisine is served.
Anyone who speaks or understands the language will be ashamed to read the message. But it is quite interesting that people who fire at others, quite often are unaware of their words' meaning. Among other things, the sender is calling Sever a person who promotes "freemason 'multiculti' politics in the country, because she presented an African refugee who managed to build a life in Croatia while locals flee it, in order to create a better future elsewhere. How can a woman promote Freemasonry since in its Supreme Being group no women are admitted?
The threat was blunt but was it also superficial?
Due to their inappropriatness, this is one of the bits of the threat that can be written and presented: "A day will come when we will execute you, you piece of trash", reads BalkanInsight.
According to Index, the Croat journalist has informed the police about the threat and told them she received it on Sunday, October 29 in the evening. The sender is still unknown.
Latest horrific incident – Malta
Lately, the journalistic world as well as the local society in Malta were equally appalled, saddened and in need of answers, by the murder of the Maltese journalist, Daphne Caruana Galizia. Her slain caused chain reactions everywhere in Europe.
During a vigil for her in Brussels, outside the EU headquarters, a woman has been photographed holding a handwritten note reading, "Protect the right to the truth to preserve democracy". A message to the heart of Europe and its leaders reminding them how much the freedom of Press means to all of us.
Needless to be written but necessary to be reminded is that, most if not all, International Journalists' Associations, as well as European and local ones and the Human Rights Watch are condemning all kinds of violence, assaults and silencing. And it is not rare that news about violence and suppression of Press freedom often becomes known thanks to such associations and organisations, that try to protect journalists and reporters. Nonetheless, today's extremists keep behaving in a –the least one can say- patronising way…/IBNA
(Main) Photo: Screenshot: HRT/Facebook, Index.hr
(2nd Text) Photo: Virginia Mayo/AP