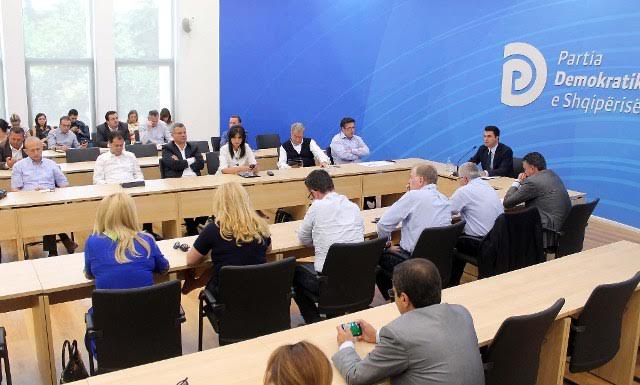 Tirana, 18 February 2016/Independent Balkan News Agency
Strong criticism against the democrat leader in Albania on the way how he is handling the opposition's stance about PM Edi Rama.
In the meeting of the Democratic Parliamentary Group, MPs Jozefina Topalli, former Parliament speaker, Eduard Selami, former DP chairman, Arben Imami, former Minister of Defence, have accused Mr. Basha of playing Edi Rama's game.
The cause for this clash relates to the request for a clear political stance by the opposition, insisting for the debate on the amendments in the Constitution not to remain on a level of experts.
Former head of the DP Parliamentary Group, Astrit Patozi says that beyond words, there's a concrete strategy and without any complexes to clarify as to how far the opposition goes and what concessions does it make.
"We must also clarify what should the democrats do if the government ignores their demands", Patozi says.
Opposition MPs say that the government is not engaged for the reform in justice and that the discussion on an expert level of a draft that amends the Constitution in essence, must not continue any further.
"The Constitution is a political agreement and as such, it can be neither amended unilaterally, nor can it be left in the hands of experts, as Prime Minister Rama would find it rather convenient", former Parliamentary Speaker, Jozefina Topalli has said.
Arben Imami MP said that the fact that Prime Minister Rama focuses public discussions and debates on the reform on the justice system, is a maneuver of his to eclipse the bad governance of the country.
An answer to this criticism was given by the vice chairman of the select committee on the reform in justice , Eduard Halimi, who has briefed them on the current progress of the process.
Halimi told MPs that the ten complaints of the opposition relate to the request of preventing the system from being captured.
Meanwhile, the DP leader, Basha has expressed his conviction that Rama will try and sabotage the reform in the justice system, insisting for the process to be a political one.
On his part, former PM Sali Berisha said that Rama is as devious to lead the country to early elections if the reform in the justice system fails. /ibna/