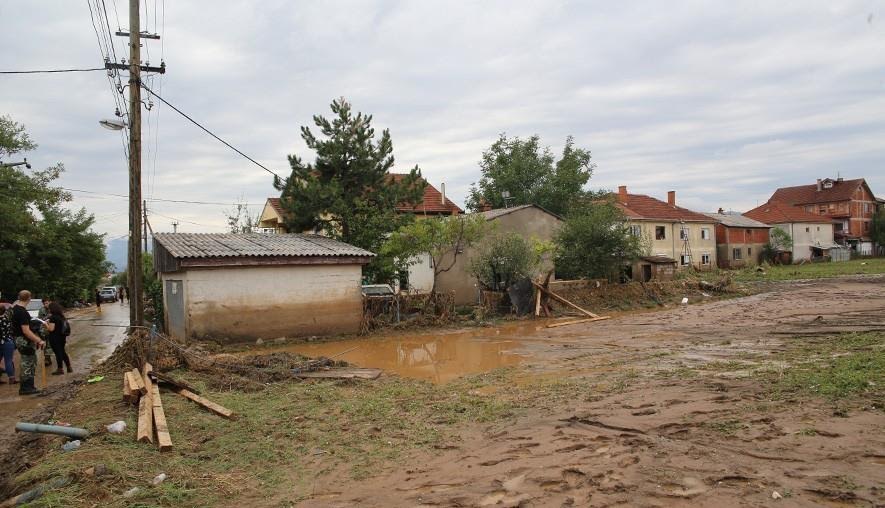 Skopje, 9 August 2016/Independent Balkan News Agency
By Naser Pajaziti
In Skopje's flooded areas the situation continues to be critical. A part of the homes continue to be under water, power supply is missing and rescue teams are continue to look for missing people, who up until now amount to 6. Meanwhile, the number of victims so far amounts to 21.
Residents in the quarters of Hasanbeg, Stajkovc, Indzikovo were affected by heavy floods during the weekend, caused by rainfalls. They say that there are no suitable conditions to stay in their homes, as the level of water is around 2 meters. "We call on authorities to assist us take the water out. The conditions are miserable and we fear a break out of an epidemic", says Ejup Bekteshi from the quarter of Hasanbeg.
According to the Ministry of Interior, teams on the ground are searching for people who are considered to be missing.
"Our teams are on the ground to rescue residents and search missing people, who may have drowned during the floods. But there is no other information on the missing people", said Liza Bendevska, spokesperson of the Ministry of Interior.
The number of wounded people from the floods amounts to 70, who have been admitted to hospital.
Residents say that it was the poor state of infrastructure that led to this catastrophe.
"The government is responsible because it has neglected this area. The sewers were not built as they should have been. We ask the state to help us now to get the water out of our homes and then assess the damages", says Mira S, resident of Stajkovc.
Danica Pavlovska, engineer of urban planning said that apart the weather, man's role is also to be blamed for this catastrophe.
"The water and sewage system in Skopje is catastrophic. They cannot contain the necessary amount of water and they are not cleaned and maintained. In one quarter, we have a sewage system which doesn't meet any standards, as it has been built with the contribution of the citizens and the government has not participated in it", Pavkovska says.
Professors of construction and forestry have announced a detailed analysis for the areas affected by the crisis, in order to assess the causes that led to these floods. /balkaneu.com/