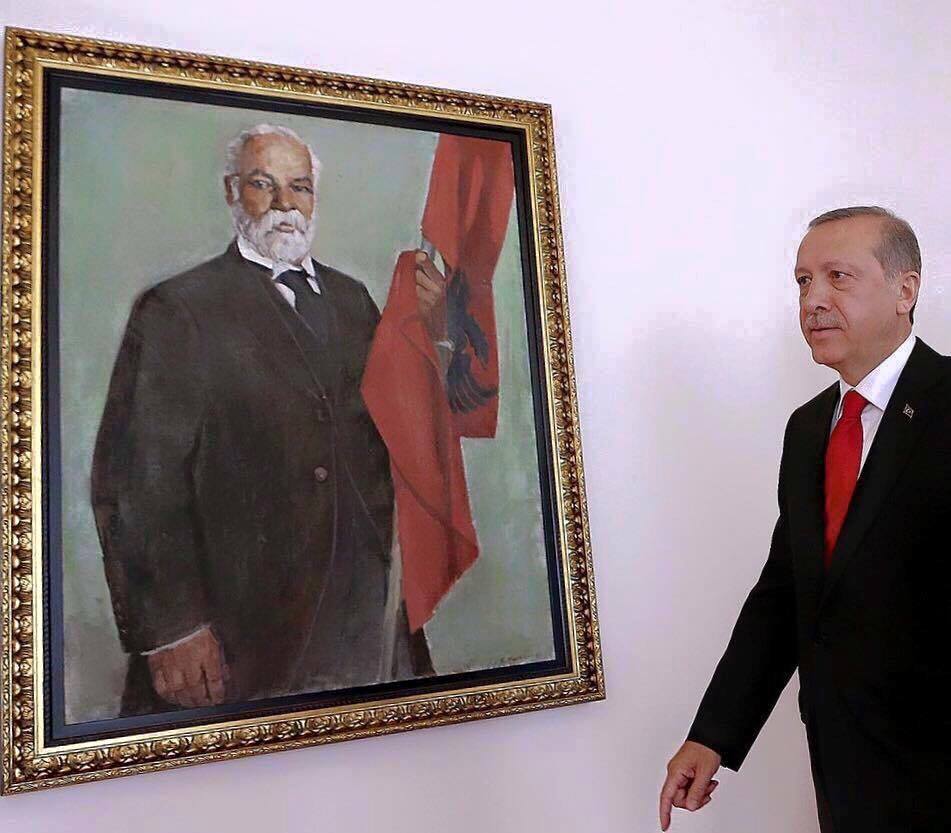 Tirana, 15 May 2015/Independent Balkan News Agency
By Edison Kurani
A debate been provoked after the visit of the Turkish president Erdogan in Tirana and his demand for Albanian authorities to remove from the country, the investor in the domain of education, Fetullah Gulen, known as his opponent in exile.
The government and the president do not comment Erdogan's request. Meanwhile, other political figures articulate their concern. Arben Malaj, prominent politician of the left and Ben Blushi, a majority MP, says that such requests are unacceptable.
Erdogan's "offer"
Turkish president, Recep Tayyp Erdogan, demanded from Albanian authorities to review the position of a foundation belonging to his political opponent, who operates in Albania with several educational institutions.
The request which came in the form of an "offer", was made during the official inauguration of the start of works for the construction of the mosque of Namazgja in Tirana. He took advantage of this occasion to touch one of the most acute issues of Turkish domestic politics, that of the fight against his exiled opponent, Fetullah Gylen, expressing his concern that Tirana will not tolerate any activity of this organization in Albania.
Erdogan demanded for Gylen's financing to be stopped as his investments will be continued by the Turkish government, in order not to suspend the activity of schools which have opened in Albania by the foundation of his political rival who lives in exile in the USA. He considered Gylen's Movement as a parallel structure. "You are well aware of the fact that in our country, we're fighting a parallel structure that has been created. We officially consider it as a terrorist organization, which threatens our country and our people. We will incessantly continue to fight this organization. I know that this structure operates in Albania. I and my dear brothers, Nishani and Rama talked about this issue and I am convinced that they will do what needs to be done".
Erdogan expressed his "full conviction" that Albanian  authorities will not tolerate this organization and its members.
"Turkey along with the Authority of Religious Affairs and other institutions is able to secure all those services, which this organization has offered here in Albania. We must be clear and calm on this", Erdogan said.
Blushi: Erdogan's offer is unacceptable, we are not vassals
Majority MP, Ben Blushi, considers Erdogan's demand to remove Gulen's investments in Albania as unacceptable. Blushi demands from the Albanian authorities to refuse this demand, which according to him, makes Albania a "vassal". "He demanded the shutting down of an organization, which according to him is a terrorist organization operating in Turkey and Albania. I don't know who is he talking about. I have not seen any terrorist organizations in the world that doesn't kill. In Albania, we have not seen any killings being committed by an organization that the Turkish president considers as terrorist. He's demanding us to remove it in order to serve his interests", Blushi says.
Blushi goes even further by saying that the 30 million Euros offered by the Turkish state for the construction of the mosque of Tirana, comes in exchange of Gylen's removal from Albania, by shutting down several schools in Tirana.
"We are not a Turkish colony and we cannot sacrifice our liberties and national pride in exchange of this gift. We cannot accept someone to come and tell us to shut down several schools, because according to him, they have been funded by his political opponent. We are not parties to the political conflict in Turkey. Nobody can come here and ask us to deport his opponents for political reasons", Blushi said.
Malaj: No investment should be accepted upon such conditions
Politician and publicist, Arben Malaj says that the labeling of Gylen's movement as a terrorist organization and the public request of the Turkish president to handle them as terrorist organization, should have had a public official reply by Albanian authorities.
He says that Erdogan's request is an effort to export Turkey's political crisis in Albania.
Malaj says that Gylen's movement doesn't appear in any of the world terrorist organizations and adds: "The stance of the of the Albanian authorities must be made clear to this public request of the Turkish president. Otherwise, silence may be deemed as approval. The help promised for several projects of "Erdogan" package may be delayed and become more imposing, at least for as long as Erdogan is president of Turkey".
The Turkish president also announced the financing of the new parliament of Albania. Mr. Malaj says that this project and no other investment "must start without first clarifying this uncommon request/conditioning".
On the photo: Turkish president yesterday at the Prime Minister's office walking besides Ismail Qemali's portrait
On November 28, 1912, Ismail Qemali led the efforts to remove the 500 year Turk invasion by proclaiming Albania's independence! /ibna/