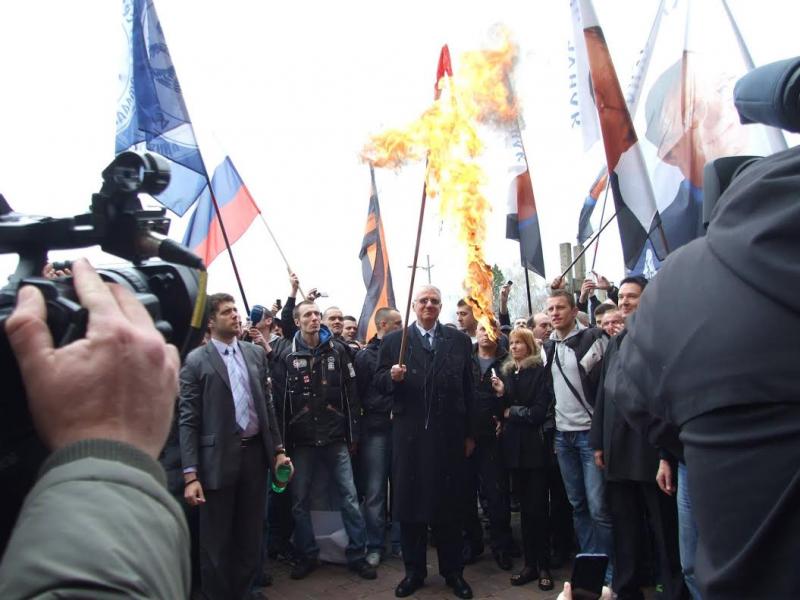 Belgrade, April 1, 2015/ Independent Balkan News Agency
By Milos Mitrovic
After ultra-nationalist Serbian politician burned today Croatian flag in Belgrade and Serbian Labor Minister criticized Croatian Prime Minister, Foreign Ministry in Zagreb has sent protest to Serbian Embassy and announced calling its ambassador from Belgrade for consultations.
Leader of non-parliamentary Serbian Radical Party Vojislav Seselj burned Croatian flag in front of the court building in Belgrade reacting to Zagreb's "permanent attacks against him". Last November Seselj was temporarily released from UN war crimes court, where he has been tried over war crimes in Croatia, Bosnia and Serbia's province Vojvodina during the 1990s. After being released, Seselj reiterated his ideas on "Greater Serbia" that would encompass Bosnia, Montenegro and large swats of Croatia.
The Hague based tribunal's decision promptly provoked reaction from Croatian government which has demanded Belgrade to distance itself from Seselj. Croatian Members of European Parliament have influenced last EP's report on Serbia.
On Monday The Hague tribunal canceled its decision on Seselj's release, a move which was hailed by Croatia. At the same time, Belgrade is frustrated over new decision because Seselj doesn't want to surrender voluntarily. According to Prime Minister Aleksandar Vucic, international community uses Seselj to put pressure on him.
Serbian Labor Minister Aleksandar Vulin "appealed" today to Croatian PM Zoran Milanovic to "defeat his own vanity" and visit Belgrade where "he can say everything he thinks about Serbia and Serbs". Vulin has alluded to Milanovic's canceled visit to Belgrade in November; Croatian PM decided not to attend Belgrade summit of Chinese PM and leaders of Central-East European countries due to "inappropriate reaction" of Serbian government to Seselj's provocative statements.
Vulin "recalled" Croatian PM that his Serbian counterpart Aleksandar Vucic "don't has a problem to come to Croatia and says what he think". "Visit us, meet 250,000 refugees from the 'Storm' " Vulin said alluding to 1995 Croatian military operation which has been followed with mass exodus of ethnic Serb minority.
There may be another reason for today's Croatian protest: leading Serbian pro-government tabloid Informer has published offensive headline on its front page against Croatian President Ms Kolinda Grabar Kitarovic quoting Seselj's vulgar tweet.
In January after Grabar-Kitarovic was elected for the new Croatian president, Informer, which is close to PM Vucic's Serbian Progressive Party, published made up "story" with photos of – as it was suggested – naked Grabar Kitarovic. However, editor-in-chief Dragan J. Vucicevic "apologized" day after admitting that, actually, a porn star was the person on the photos. Vucicevic also said that Serbian intelligence officer has gave him the illustrations. Initially, he claimed that material was provided by Croatian agents.
Photo: Vojislav Seselj burns Croatian flag in Belgrade today