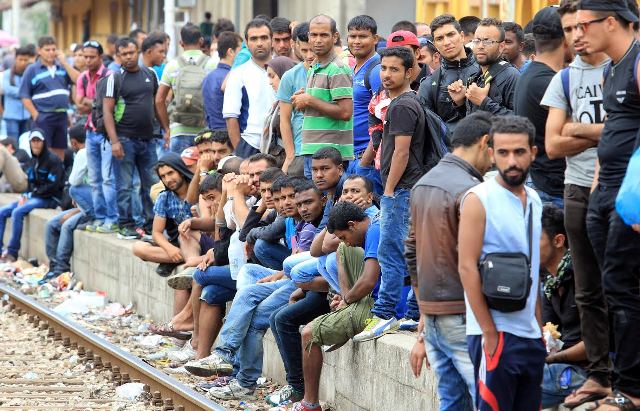 Skopje, 24 August 2015/Independent Balkan News Agency
By Naser Pajaziti
The situation in the border area of Gevgelia has normalized following the crisis with refugees. In this area bordering Greece, tents have started to be set up in order to open a temporary center for the admission of refugees.
Meanwhile, all the refugees that come to FYROM are allowed to continue their journey, but they first rest in the accommodation center.
Meanwhile, those refugees who had set off from Gevgelia in the afternoon arrive in the railway station of Tabanoc near the border with Serbia.
"Two trains which were full of refugees, arrived today in the train station of Tabanoc. They stopped a little to rest and then they departed for Serbia", declared for IBNA, Isuf Pajaziti, head of the Railway Station in Tabanoc.
Refugees have talked about the terrible moments that they had had gone through in the past two days, when Macedonian police had kept them outside, under the rain and in low temperatures, selecting small groups to enter the country.
"People in Macedonia are good, but police is bad. Everyone is sick. Police relaxed, while we sought help. They told us that we lied and they hit us", a refugee from Syria said.
In the past 24 hours, police have registered over 2000 refugees from Syria, Iraq, Afghanistan, but there are many others who haven't been registered. Meanwhile, in the past three days, around 8 thousand refugees have entered the country. This number was tripled following the government's decision to control and secure the border in the south of the country.
Government complains that there's no help from the EU
The government of FYR Macedonia declared that it's doing everything in order to overcome the crisis with refugees.
Minister of Interior, Mitko Cavkov, declared that the problem with emigrants is not only a problem of FYROM, but it's an international problem, therefore he said that there is no concrete aid from the European Union.
"We all know that the EU doesn't have a consistent solution in order to cope with this humanitarian catastrophe. Our efforts and our capacities are limited, therefore we have declared this border area as a crisis area", Minister of Interior declared.
Cavkov also commented on the accusations about police violent intervention against crowds of refugees.
"We initially made efforts to offer adequate treatment for families with children and people who were sick, but the refugees didn't collaborate. I understand that they have gone through so much to get here and this was perhaps the reason why they attacked police by throwing stones at them", Cavkov said.
Minister of Defence, Jolevski said that it's not known how many refugees could swarm FYROM, but the country must be ready for everything.
NGOs: Behavior against refugees offers a negative image for the country
Human rights and humanitarian organizations have reacted against the government's decision to block refugees for three days on the border with Greece.
Skopje based organization, "Civil", says that even during this crisis, institutions were inefficient and discriminating.
"What happened in the recent days in the border with Greece showed once again that the only capacity that institutions have is to make the state look bad. The government must immediately change its behavior against refugees and respect international rights. Police behavior will have a high cost for the country. This behavior must be put to an end and those who are responsible must resign", "Civil" says. /ibna/