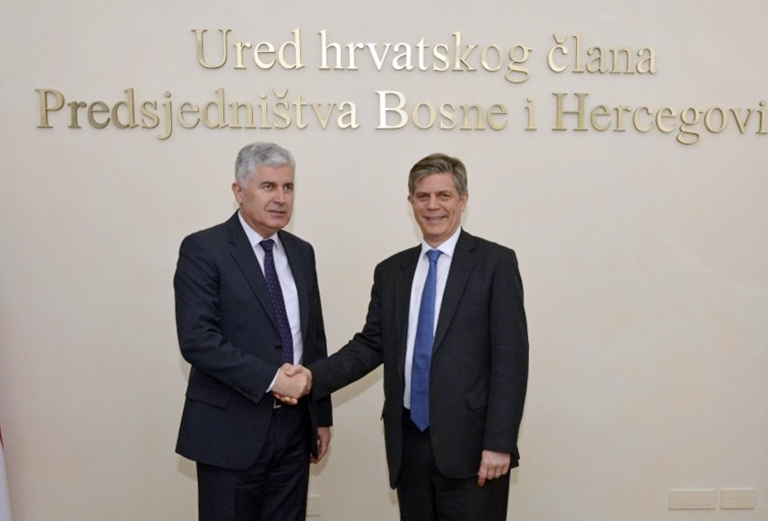 Croat member of the BiH Presidency and leader of Croatian Democratic Unity, Dragan Covic, said on Wednesday in Mostar that the parliamentary majority in BiH Parliament doesn't exist any more, which means that this joint institution in the state level is in crisis.
After meeting with Head of EU Delegation in BiH and EU Special Representative, Lars Gunnar Wigemark, Covic said that this crisis should not stop the implementation of the Reform Agenda and the European path of BiH.
"I already said several times before, and there is no need to adorn this issue. It is evident that we do not have a parliamentary majority. But also, we will not have the new elections before October next year. We have executive power as it is on state level and we must work", Covic said.
He added that it is necessary to separate the issues that are crucial for the European path of BiH from inter-party disagreements.
"These our games and disagreements must be resolved in some other way, no matter how much someone is right or wrong. Everything that has passed the Council of Ministers, I am convinced,  will pass the parliamentary procedure", Covic said.
Wigemark agreed with Covic's opinion about the European path of the state and called on all political parties to maximally engaged and implement reforms they promised.
"It is necessary to continue implementing economic and social reforms of the Reform Agenda. I am glad that the representatives of all the key political parties have repeatedly expressed their willingness to put their differences aside and continue the European path of BiH", Wigemark said.
Commenting on the decision of the Council of Ministers to increase the excise tax on oil and oil derivatives, Wigemark said that the decision is crucial for further economic growth of BiH and the creation of new jobs. He added that the continued construction of transport infrastructure depends on the implementation of that decision.
"On the other hand, I understand the concerns of farmers. In the past few months I have met with thousands of farmers across the country. They are in a very difficult situation and we need to think about how to help these people. There are numerous ways to do it and I hope that the European Union and national institutions will find the best solutions for them", Wigemark said./ΙΒΝΑ
Photo: FENA