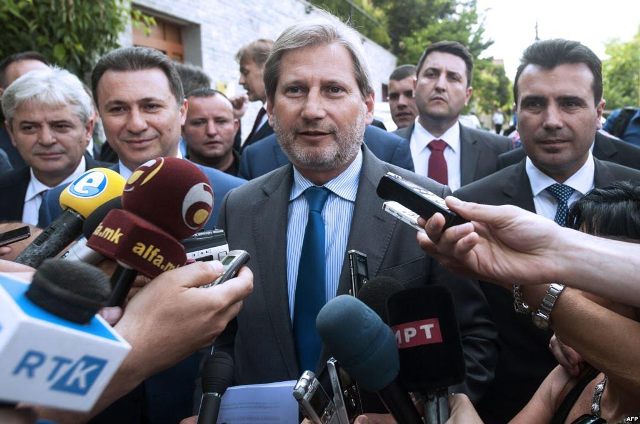 Skopje, 10 October 2016/Independent Balkan News Agency
By Naser Pajaziti
Parliament of FYROM is scheduled to dissolve in two days, after the agreement to hold elections on 11 December. But, parliament has not yet voted the two bills requested by the Special Prosecution, which is a condition of the political accord reached between the leaders of the four political parties, who pledged that they would back all the requests of this institution which is investigating the wiretapping scandal. Meanwhile, parliament must also vote the 2017 budget. Political parties disagree in relation to the two bills relating to a more efficient functioning of the Special Prosecution and the voting of the budget.
This situation has led to EU Enlargement Commissioner, Johannes Hahn to visit Skopje on 14 October, to solve the disagreements which are preventing this crisis to be solved.
Macedonian diplomat, Nano Ruzin says that Hahn comes to unblock this crisis and make sure that elections are held on 11 December.
"He will come and show that given that we want a stable state, then we must address the dilemmas concerning the upcoming elections and facilitate the functioning of the Special Prosecution. Otherwise, the EU will use instruments which may not be in our favor", Ruzin said.
For publicist, Dzabir Ameti, the EU wants stability and doesn't want any more problems.
"I think that Han and other emissaries come here to serve the EU's interests. First of all, they don't want stability to be threatened within European borders. Macedonia along with Albania, Kosovo and Bosnia are inside of these borders. Although we're not EU members, they consider us within the EU's space. This is Hahn's scope. To secure peace and stability", says Ahmeti.
Meanwhile, the EU's office has announced that Hahn will hold meetings with the leaders of the four main parties, but a new meeting between leaders is not ruled out.
Leader of the largest opposition party, SDSM, Zoran Zaev said last week that he will no longer sit down to discuss the same things for a second time.
According to the Przino Agreement, parliament must dissolve 45 to 60 days prior to the holding of the elections, namely 12 October. /balkaneu.com/