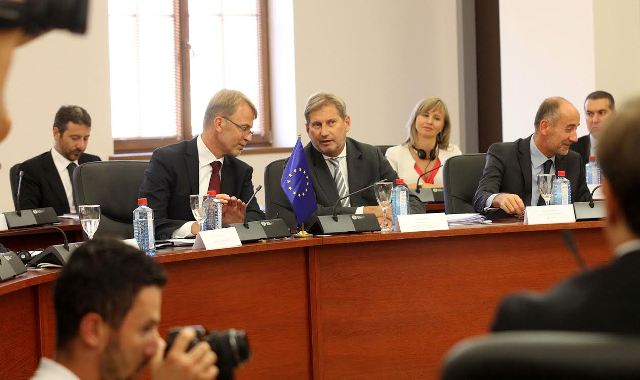 Skopje, 21 September 2015/Independent Balkan News Agency
By Naser Pajaziti
Political sides in FYR Macedonia have agreed on finalizing talks for the implementation of the June 2 agreement for the solution of the political crisis until 6 October.
The main four political parties are expected to reach compromise in the days to come on the electoral code, which would guarantee free elections and which according to the agreement, they will be held on 24 April 2016.
EU Enlargement Commissioner, Johannes Hahn stayed in Skopje for a two day visit during the weekend.
"The elections must take place until the end of April, while political parties must talk about the electoral code and at the same time, the reforms and the political agreement of June 2 must continue to be implemented", EU commissioner Hahn said before he left Skopje.
Hahn says that there's a still lot of work to do and that it remains to be seen how the EU progress report will be.
PM Nikola Gruevski that the implementation of the political agreement and the process of reforms that have an impact in the EU integration plan will continue.
"What I can promise is that we will do everything to convince EU members to have remove all doubts about the start of accession talks", Gruevski declared.
Macedonian opposition leader, Zoran Zaev says that the process of the implementation of the agreement must be finalized before the April 24 elections.
"I'm happy that the EU is imposing concrete deadlines to implement the agreement that was reached. For us, it's very important that negotiations are concluded as soon as possible", Zaev declared.
Citizens in FYROM praise the positive steps taken for the agreement.
"We're happy that this process is moving forward, in order for the country to see progress, to have new jobs and stop young people from leaving the country due to the political and economic crisis", Selvete Aziri from Skopje says.
Based on the agreement, once the electoral code is approved, PM Nikola Gruevski and his cabinet are expected to resign. A new Prime Minister will then be appointed and he must form a government with the participation of the majority and opposition. /ibna/