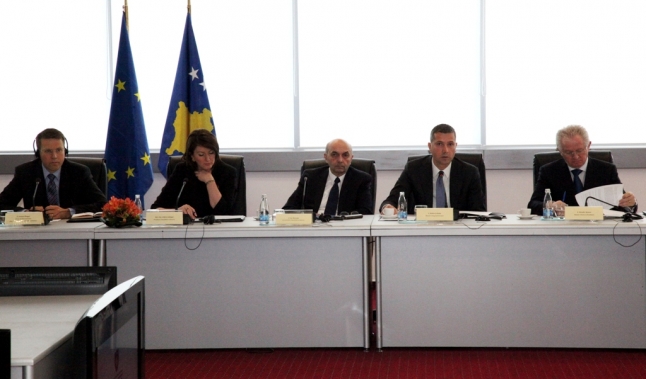 Pristina, January 15, 2015/Independent Balkan News Agency
By Elton Tota
Council for European Integration has held a meeting today called by the president of the country, Atifete Jahjaga, to discuss about the fact that a significant number of Kosovo nationals are leaving for EU countries.
During this meeting it was said that Kosovo, like other regional and EU countries, must stop criminal rings who are exploiting the desperation of people in Kosovo.
President Jahjaga stressed that the priority of the institutions of Kosovo must be to strengthen the reforms which are part of the European agenda.
According to her, Kosovo must make up for lost time in order to meet its objectives that enable the endorsement of the Stabilization and Association Agreement and the fulfillment of the criteria for the liberalization of visas.
Kosovo's PM, Isa Mustafa said that the government of Kosovo is committed to fight criminal groups which enable illegal migration, but at the same time, it also expects this to be done by neighboring countries.
Mustafa added that the government of Kosovo is committed to making Kosovo a country where people want to live and work.
"We're aware that this cannot happen fast. Liberalization of visas would help Kosovo in order for its citizens to go abroad and return", said he.
Meanwhile, the minister for European Integration, Bekim Collaku said that Kosovo is on a turning point in its integration process and that the government is making a lot of efforts in order for Kosovo to become an EU member.
He said that it must be admitted that the number of illegal migrants from the Republic of Kosovo for 2014 saw a rise compared to recent years.
"People who are affected by this phenomenon are damaged directly, starting with financial expenses and the risks that they take with their travelling to EU member countries", said Mr. Collaku among others.
Moreover, the minister said that the member countries are tired from migration in general and of course, they are not expecting us to be the source of this. According to him, it's hard to make immediate changes at once, but an added commitment helps in addressing this phenomenon and reducing it in a relatively short period.
Collaku said that one way to reduce social and economic problem is by signing agreements that guarantee seasonal work outside of Kosovo.
The head of the EU office to Kosovo, Samuel Zbogar declared that no EU member country will accept asylum seekers from Kosovo.
"No EU member country will accept asylum seekers. The majority will be turned down and those who will be repatriated to Kosovo, will return even poorer because they will be penalized", said Zbogar.
According to him, illegal migration has three main problems, the economic problem, security problem and the humanitarian one. Zbogar said that no citizen will leave his country if he has a good job, therefore, according to him, there must be economic development.
The head of the EU office has called for the authorities of Kosovo and the EU member countries to stop criminal rings that benefit from the desperation of Kosovo people. /ibna/