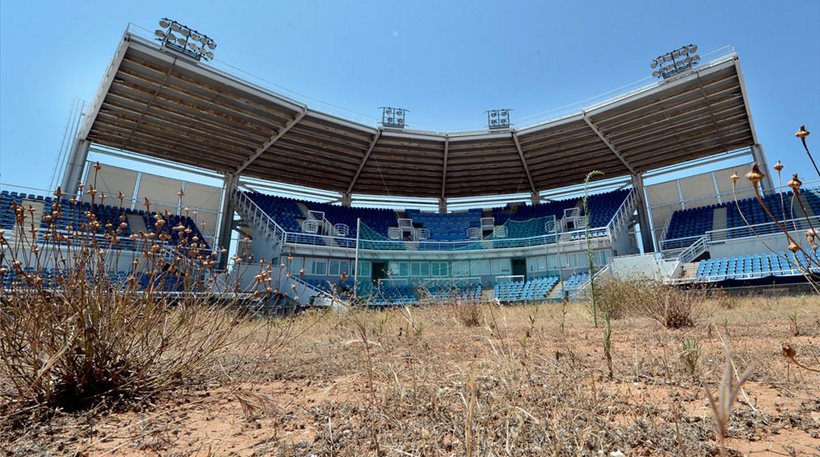 By Spiros Sideris – Athens
Criminal prosecutions have been issued to the executives of the company "Olympic Properties" for the abandonment of the facilities built for the 2004 Athens Olympics. Ten years after the 'golden' 2004 Olympics, Justice has indicted the former president of the company "Olympic Properties", Konstantinos Matalas for felony infidelity, and has sent to Parliament a request for the waiver of the immunity of his successor to the position, now Pella MP for ND, Dionisis Stamenitis (for 2009), so that he be prosecuted for the same offense.
The prosecution was issued after a preliminary examination conducted by prosecutors Sotiris Bougioukos and Eleni Siskou, to establish criminal liability for the abandonment of the Olympic properties, which although they cost millions of euros to the Greek people they have been left to turn to ruins.
From the investigation of the two prosecutors, it appears that evidence have come up that point to the criminal liability of the two former heads of the company, which was responsible for the maintenance and post-Olympic use of both fixed and mobile structures used in the Olympiad.
The company, which took over all facilities except the Stadium, according to the findings of the investigation, did not take the necessary actions for their post-Olympic use. In the preliminary examination, the prosecutors called the executives of the company "Olympic Properties" to be examined as suspects of illegal actions.
The view, however, of the damaged Olympic venues has traveled around the world, on the occasion of completion of ten years of the Olympic Games in Athens.
International media hosted video and photos of the tragic situation of the Olympic site. Specifically, Reuters reported that Athens, ten years after the Games, has no reason to celebrate, adding that "the Greeks from the pride of those moments have gone to anger, as the country struggles through a six-year recession, with unemployment record levels, with homelessness and poverty".
The german newspaper Bild wrote that "This is where Olympic history collapses", and similar references were made by the British network BBC. The start had been made by the Daily Mirror, with photographs of the condition of the Olympic facilities, noting that nothing reminds that just ten years ago Olympic games were held in the country. In the 118 years of history of the modern Olympic Games, Greece seems to be the only country that has produced not one but two projects for the post-Olympic use of the facilities, but failed to implement either.