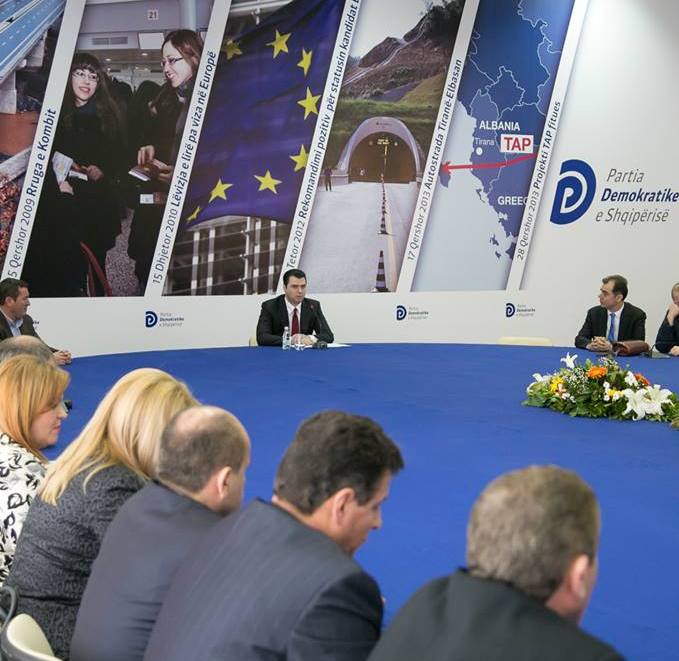 The government has rejected the accusations launched by the opposition. Mr. Rama says that the drug traffic being alleged by DP doesn't exist. He has denied suspicions that the military base of Gjader has been used a few weeks ago for international drug traffic by small airplanes. The minister of Defense too, Mimi Kodheli, has rejected these accusations. Nevertheless, in the recent days, this ministry has surrounded the military airport of Gjader, which was considered by the opposition as a center of drug traffic, with concrete blocks
Tirana, May 5, 2014/Independent Balkan News Agency
Opposition in Albania is intensifying its criticism and accusations against the left wing majority, saying that the situation of law and order in the country remains fragile and that the government is involved in illicit traffics.
The leader of Democratic Party and former minister of Interior, Lulzim Basha said today (photo) that he urgently demands the establishment of the inquiry committee on drug traffic.
Speaking in front of opposition MPs, Mr. Basha denounced what he called a rise in criminality and "government propaganda which aims to cover the failures in this aspect".
Mr. Basha also talked today about new information that relate to the accusations launched by the opposition for the involvement of the state in drug traffic.
"New information has come to light, fresh reports are being deposited, new tips are being given by official internal sources, by our partners that work with Albanians on law and order, security and democracy in this part of the Balkan region, supported by new testimonies of hundreds of Albanian citizens in spite of the intimidation, on the new routes of drug transport that lead to the assembly points for lorries, motor boats and airplanes filled with drug", said Mr. Basha.
He appealed that there's an urgent need to appoint the parliamentary inquiry committee which will investigate the suspected drug traffic.
"Every day that goes by, is a wasted day for parliament, a day earned for the traffic and drug dealers, a day earned by the forces of evil who want to become more powerful in order to make their law with the dirty crime money", said Mr. Basha.
The leader of opposition reiterated the accusation that international drug traffic is intensifying "under the nose of the state". "Never more than now it hasn't happened for Adriatic to turn into a highway of drugs based in Albania, like Italian authorities and media report; never before has it happened from drug trafficking to be so conspicuous on the land, at sea and in the air, like it's happening during the governance of Rama and Meta. Never before has it happened for the country to appear in the radars of our partners as a drug cartel with fluid borders, where it's impossible to tell where the cartel ends and where governance starts or vice versa", said Mr. Basha.
He said that "the outbreak of drug traffic has another side of the medal, that of the constant deterioration of law and order in general".
The government has rejected the accusations launched by the opposition. Mr. Rama says that the drug traffic being alleged by DP doesn't exist. He has denied suspicions that the military base of Gjader has been used a few weeks ago for international drug traffic by small airplanes. The minister of Defense too, Mimi Kodheli, has rejected these accusations. Nevertheless, in the recent days, this ministry has surrounded the military airport of Gjader, which was considered by the opposition as a center of drug traffic, with concrete blocks.