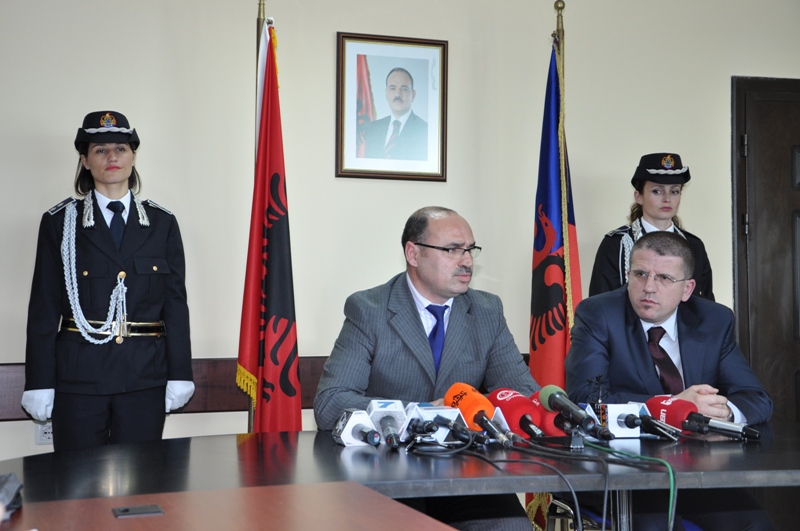 Tirana, 9 April 2013
An international police operation was conducted with the participation of police forces from Albania, Italy and other EU countries, such as Belgium, France, the Netherlands and Switzerland.
The operation's coded name was "Sotto traccia – AL" and it aimed at investigating and attacking a criminal organization dealing mainly with "Trafficking in large quantities of narcotic substances cocaine and heroin", "Favoring and exploitation for prostitution", "Favoring and enabling clandestine stay in the Eu countries".
The Italian police authority initiated this international operation. The investigations took place over a period of many years and over a number of Eu countries.
Director of Narcotics and Trafficking, Edmond Rizaj and the Head of the Prosecution for Serious Crimes, Eugen Beci held a press conference on the outcomes of the operation on Wednesday afternoon.
They said that the criminal activity of the organization did not take place in Albania. In all cases, the territory of Albania was not used as a transit country for trafficking of narcotics or the rest of their criminal activity.
Nevertheless, the Serious Crimes Prosecution authorized the State Police in the beginning of 2012 to undertake a series of verifications and police actions to contribute in the framework of this operation.
As a result of these actions, the operation for the arrest of the individuals involved in this activity was undertaken and extended to some Albanian towns.
The actions for the finalization of the international operation "Sotto Traccia" were coordinated by EuroJust, which enabled cooperation and coordination of simultaneous actions in five other countries: Italy, Belgium, France, the Netherlands and Switzerland. The total number of arrested persons is 34, out of which eight Albanian citizens arrested in Albania, and:
– 10 in Italy
– 1 in Belgium
– 1 in France
– 1 in the Netherlands
– 3 in Switzerland
8 kilogram cocaine and heroin were detected during the operation. /ibna/