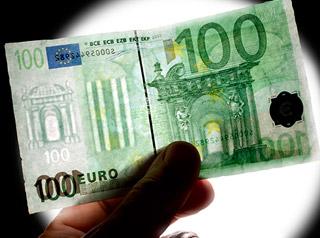 Sofia, October 7, 2016/Independent Balkan News Agency
By Clive Leviev-Sawyer of The Sofia Globe
Bulgarian authorities, in close co-operation with Europol, arrested eight suspects belonging to an international organised criminal group responsible for the production and distribution of counterfeit euro banknotes, the European police agency confirmed on October 6.
In total, counterfeit euro of a face value of three million euro were seized during house searches in Bulgaria's cities of Sofia and Plovdiv.
"The reach of this organised crime group was far-reaching: their forged notes were detected in circulation in nearly all EU member states," Eurpol said.
In parallel, a further 14 individuals were arrested in Ljubljana, Koper, Izola and Piran by the Slovenian authorities  on the occasion of which eight kilograms of drugs were also found on one of the suspects.
The October 5 operation was the result of excellent co-operation between Europol and the competent law enforcement authorities in Bulgaria and Slovenia, Europol said.
Criminal intelligence gathered in different EU member states and shared by Europol led to the locations in those two countries. On the action day itself, more than 120 police officers were deployed to carry out house searches in Bulgaria, and over 170 in Slovenia.
At the home of the main suspect, an individual previously known in Europol's databases and who was located in Plovdiv, finished 50 euro banknotes adding up to 200 000 euro were seized.
More than1.8 million euro of unfinished 50 euro banknotes were also seized in a nearby warehouse, alongside the equipment used to produce counterfeit euro banknotes, such as offset printing machines, hot foil stamping devices, rolls of metallic foil and printing plates.
Europol officials deployed in Bulgaria and Slovenia assisted the national authorities during the examination of the printing equipment and counterfeits in order to gather as much evidence as possible.
These raids were the culmination of an extensive operation that has been on-going for more than eight months and was supported by Europol, the police agency said.
In its capacity as the EU Central Office for Combating Euro Counterfeiting, Europol typically facilitates the exchange of intelligence and provides expertise, criminal and forensic analysis, training, financial and technical support to law enforcement agencies inside and outside the European Union.