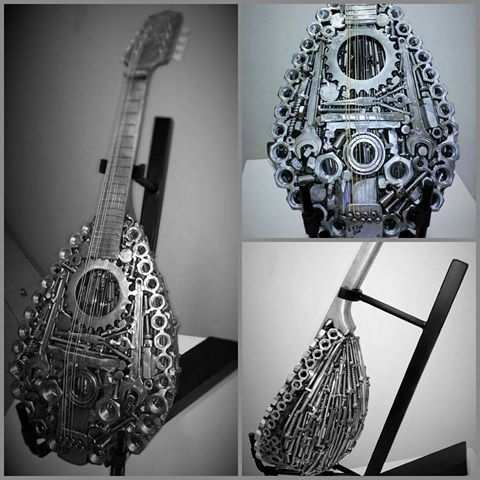 Stavros Loizou Paou sees art in all objects and old materials which could have ended up in recycle bins or in landfills. He wants to provide these items with a new form, shape and utility.
He uses old screws, old plastic, such as pens, any kind of recyclable material, glass, old toys, everything in his hands, can change form and become at art object with a meaning for him which he wants to pass on to others.
"I see art everywhere. Some people ask me if I am a so called green artist and whether I want to send messages through my artistic creations in a society that is keen on consumption. I do not wish to judge anyone, each one of us is different, with different experiences. I try to make the most out of things and objects that have completed their life cycle. I just want to make art and if using recyclable items makes me a green artist, then yes I am'', Stavros tells CNA.
Stavros, whose creations were displayed in galleries in the past, says that various objects have an expiration date and return to nature through recycling, in order to be turned to something else, but he likes to turn these things to art and creations through his creativity and inspiration. A piece of metal, an old tool, a stick, an old toy, is a form of expression.
"I come across several things and old objects, I do not throw out anything at all, I like to store them and when I have inspiration, I use these objects to make an art creation'', he says.
One such example is an old helmet which he turned upside down and painted yellow giving his creation the title "Unintentional''.
As he explains he had this helmet, one used in the army, for over 25 years and when the moment of inspiration came, he turned it into a piece of art, with lots of messages.
Stavros set up another installation using old toys which he kept for years and he wanted to keep alive the memories of his own kids, as they were growing up.
Asked if there is a certain criterion by which he chooses the material he uses, Stavros says that art has no limits, there is full freedom in whatever he makes and therefore no limits or parameters apply.
"I have no limits in what I want to make, it is a form of expression, any material can be transformed to something beautiful and I get inspiration from everything around me'', he says.
We invite him to comment on the fact that this kind of art is a bit unusual in Cyprus, making art from recyclables or garbage.
"Well, I would not say garbage, as I said before I use things that I feel they have reached the end of their life cycle. Now whether this is unusual, well… several things were unusual in the world and now they are not. People mature and soon they adopt the trends of a particular era. Change cannot be stopped'', he says.
Stavros feels happy because the public is expressed with very flattering words about his work. "But I am open to comments and exchange of views, we can certainly discuss anything", he says.
Stavros was born in 1970, he studied economics and holds an MBA. He tells us that from a very young age he realized that he loved making things and creating art from various objects and in recent years he was able to fulfill this passion in his own studio, Recycle & Steel Art./IBNA
Source: Cyprus News Agency