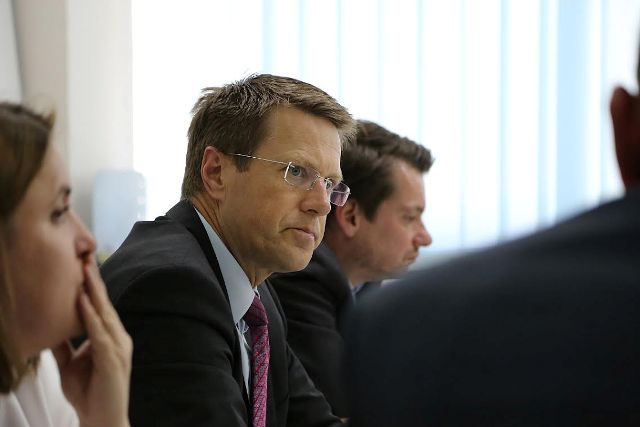 Pristina, April 21, 2015/Independent Balkan News Agency
By Elton Tota
EU Special Representative to Kosovo, Samuel Zbogar declared today in Pristina that the creation of the Special Tribunal for the investigation of alleged crimes committed by the Kosovo Liberation Army, cannot be stopped.
"The creation of the Special Tribunal cannot be stopped. It will be founded by either parliament of Kosovo or the UN Security Council. The failure to create the tribunal would cause lots of damages", said Zbogar in the conference organized by the Group for Political and Legal Studies in Pristina.
Zbogar said that people in Kosovo are skeptic about the work of this tribunal, the creation of which was masterminded by the Swiss senator Dick Marty, who delivered a report to the European Council and which incriminated heads of KLA in war crimes against Serb civilians.
Zbogar says that now it's the time for Kosovo "to remove this black cloud".
"The Court will not damage the image of Kosovo, but it will clean it. When we talk about alleged war crimes, then we have to do with crimes committed by several individuals. Now time has come for these accusations to be addressed against individuals and not Kosovo", Zbogar said.
According to him, the process of the creation of the tribunal must be credible, unbiased and it must reveal the truth about the accusations that have been launched.
Political analyst, Dukagjin Gorani, who also participated in this conference, said that it's not enough to say that the tribunal will be created.
"Nothing is known about this tribunal. This causes uncertainties", Gorani said.
The Dutch ambassador, Robert Bosch also says that the process of the creation of the tribunal is unstoppable.
The country that Bosch represents, Holland, is expected to be the seat of this tribunal, but the diplomat says that this is yet to be decided.
"Holland has not been involved at the moment, because this is a European process. Once the process is completed, then we can be involved", said Robert Bosch.
Meanwhile, LDK lawmaker, Teuta Sahatqija, said that the institutions of Kosovo must be able to face such challenges, such as the foundation of the Special Tribunal.
Sahatqija also expects the powers of this court to include the trying of the murders of several LDK officials after the war. /ibna/