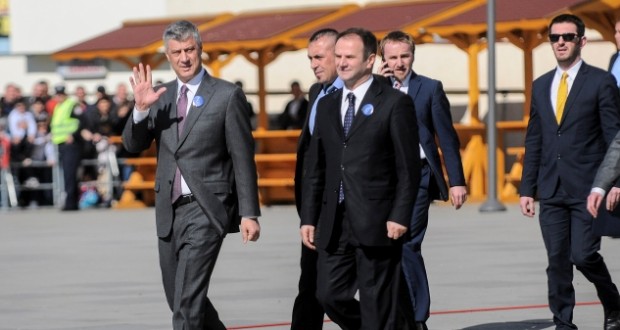 IBNA Special Report
Pristina, August 15, 2014/Independent Balkan News Agency
By Elton Tota
Democratic Party of Kosovo and the opposition bloc are waiting for the verdict of the Constitutional Court to then proceed with the creation of the institutions.
Leader of PDK, Hashim Thaci said that once the Constitutional Court issues a verdict, then this party will engage in forming a comprehensive government coalition. He said that nobody can steal the legitimacy of the citizens of Kosovo.
Thaci said that the best governing formula is to respect the right of the Democratic Party of Kosovo to create a coalition with its partners.
"We're currently waiting the decision of the Constitutional Court. Then we will engage in forming a wide coalition with the participation of Albanian and ethnic minority parties. The best governing formula is to respect the right of the Democratic Party of Kosovo, as the winner of the elections, to form a legitimate government. Good governing must continue. The battle against extremism will continue along with the battle for law and order, battle against corruption and organized crime, economic development and implementation of the 'New Mission'", said Thaci.
But, there are voices within this political party who do not exclude extraordinary parliamentary elections.
The vice chairman of PDK, Hajredin Kuci says that work is being done to build legitimate constitutional institutions and that the elections are the last resort.
"We work in order to build legitimate stable institutions based on the Constitution. All of this must be solved in the best interest of the citizens. If the elections are the last resort, then we will participate in them, but this should be the last resort", said Kuci.
Meanwhile, opposition parties in Kosovo so far have declared that they will not govern with the Democratic Party of Kosovo. Opposition bloc said that it's against the holding of parliamentary elections.
Leader of the Democratic Party of Kosovo, Isa Mustafa says that Thaci's government has impoverished Kosovo and that the solution consists on a government formed by opposition parties.
"We don't have time to waste. The new government must be formed as soon as possible in order to offer perspective to Kosovo. We're the most undeveloped country in this part of the world, with over 40% of unemployment,  with the lowest GDP per capita and great poverty. We must make a solution for our citizens, we must encourage economic development and attract direct foreign investments. There is no democracy without economic development, without employment and with high poverty", said Mustafa.
According to him, Kosovo needs the help of the European Union to overcome the transition period.
"Europeans must help us, like they have helped the others to overcome these phases of transition, while we must maintain our dignity and work in order to build stable institutions and open development perspectives", declared Mustafa.
Kosovar analyst, Halil Matoshi says that the fresh elections are not the best option for Kosovo, as according to him, Kosovo has other challenges.
"The fresh elections are not an option, because Kosovo has many challenges and it's entering the phase of a contractual agreement with EU. Therefore, I believe that institutions must be built based on these", said Matoshi. /ibna/