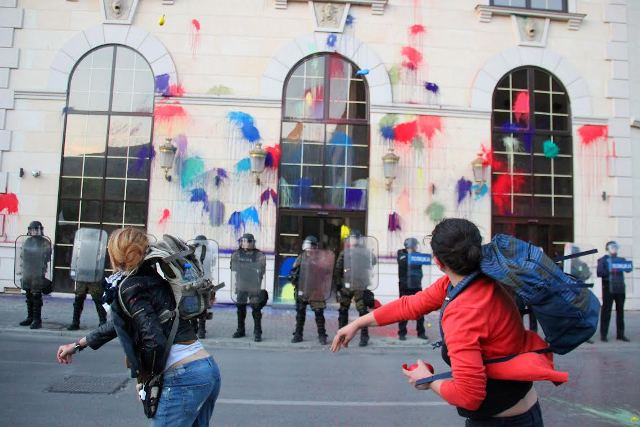 Skopje, 4 May 2016/Independent Balkan News Agency
By Naser Pajaziti
A part of the opposition in FYROM wants civil society to be involved in finding a solution for the political crisis, by forming a wide opposition front. According to them, the solution of the crisis cannot come from the international community.
Liljana Popovska from the Democratic Innovation Party told IBNA that all parties must sit down on a level of experts to manage the crisis.
"Following the protests that lasted two weeks, time has come for concrete political results. We don't need to wait for a foreigner to offer this solution to us, we must find a solution on our own. This way, not only our party will be involved in active negotiations, but other political parties and civil society too", Popovska said.
Pavle Trajanov of the Democratic League stresses the need of a wider political dialogue.
"Instead of waiting for the international community to offer an agreement and solve our problems, we propose that all responsible people must sit down and confirm the platform which would help for a solution of this crisis. Parliament must convene and a government of experts must be formed", Trajanov said.
BESA Movement, which is a new party, also demands a government of experts.
The secretary general of this party, Afrim Gashi told IBNA that the interim government which has been formed by the four main political parties, must resign as soon as possible, as it is not yielding results.
"The gridlock of the political process and the failure to find a solution is a responsibility of the current government. It must resign and give way to a government of experts, wich must organize free and democratic elections", Gashi says.
The proposal for a government of experts has also come from the European negotiator for the solution of the crisis, Peter Vanhoute.
"The only alternative is the support of the international community, while there's an immediate need for prompt action. This must result in the creation of an ad hoc technical government which would last 2 or 3 years, sufficient time to solve the numerous problems that the country has", Vanhoute says.
Columnist Visar Ademi says that the solution must not come from people who up until now have been accused of unlawful activities and corruption. According to him, those who are involved in these activities, do not want a solution, because they want to protect their interests.
"To solve the crisis, Macedonia needs a government of experts which would be led by a person who has not been involved in crimes", Ademi says. /balkaneu.com/