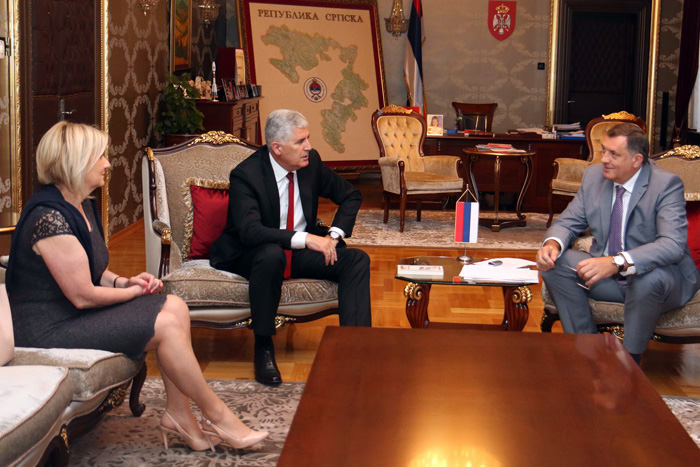 Croat member of BiH Presidency and leader of "Croatian Democratic Union" (HDZ), Dragan Covic, confirmed on Friday in Banja Luka that parliaments at BiH and Federation levels are going through crisis and that in both parliamentary majority doesn't exist.
After meeting with RS president and leader of "Alliance of Independent Social Democrats" (SNSD), Milorad Dodik, Covic said to the media that this hard situation will remain the status quo until the next elections, in fall 2018. The situation is the result of the fact that two biggest political parties in Federation BiH, HDZ and Bosniak "Party of Democratic Action" (SDA), in the last several months, were not able to find common ground for cooperation on vital issues for citizens. Different viewpoints prevented these parties from cooperating, but coalitions with smaller parties is not the solution in this case, because they are not strong enough to establish majority with one of the leading parties. The situation is more complicated because of the Federation BiH structure, which is based on governments in ten cantons and central federal government.
Covic, after the meeting with Dodik, said that essential topic in BiH is the establishement of a functional Coordination Mechanism. This Mechanism must respect constitutional jurisdiction of the entities and the state.
"Majority of response to questions from the European Commission Questionnaire have already been completed and, in order to avoid any speculation and possible ambiguities, this must be done in order for BiH to reach the candidate status in EU as soon as possible", Covic said.
For Dodik, the problem is much deeper and the whole Reform Agenda in BiH is jeopardized.
As he said to reporters after the meeting, the problem in the functioning of BiH institutions that arose due to inert governing structure at the state level.
"RS has a bad position at the state level because of the behavior of RS representatives at BiH level", Dodik emphasized.
The RS representatives on the state level of government are from parties which are in opposition to SNSD at RS level. As the last example of such "bad behavior" of Serb ministers in the BiH Council of Ministers Dodik mentioned voting on the Bill on amendments to the Criminal Code of BiH. For himself and the ruling coalition at RS level, these changes are not acceptable. Changes provide the sentences for "negation of genocide" and Dodik is the politician which in the most cases stated that there was no genocide in Srebrenica but that Serbs committed a serious war crime in that place. The problem for other Serb parties, even those from BiH government level, is that remarks from RS Ministry of Justice were not accepted. Leader of Serb Democratic Party (SDS), Vukota Govedarica, said recently that Serb representatives will not vote for them if other parties refuse to accept RS remarks.
But, as Covic said in Banja Luka, these changes without RS remarks will not have the support of Croatian representatives. He added that these and other legal issue will not be accepted without full respect of RS remarks. Covic added that HDZ and SNSD will cooperate on this issue in the future.
This meeting could be just another in the line, since Dodik and Covic are friends in private life, but there are some significant issues. The agreement on full respect of RS remarks in legislative topics show that HDZ is closer to SNSD than to SDS and the Party of Democratic Progress, which with HDZ is supposed to cooperate on state level. Second, further rapprochement of the biggest Croat and Serb parties left Bosniak SDA alone and without support in various important issues on state level.
And finally, it is now obvious that HDZ cannot cooperate with SDS and PDP and has already begun an attempt to set the groundwork for a cooperation with SNSD at the higher level for the 2018 election./IBNA