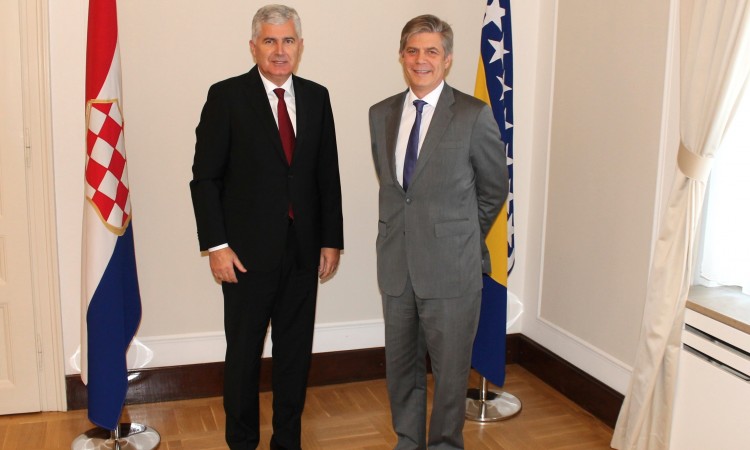 BiH Presidency Chairman, Dragan Covic, held on Thursday a meeting with Head of the EU Delegation to BiH and EU Special Representative in BiH, Ambassador Lars Gunnar Wigemark to discuss the important issues for BiH accession to European Union.
As it was announced in the press release by the BiH Presidency, Wigemark informed Covic about the conclusions on BiH adopted by Council of the European Union. He stressed that the Council in the conclusions, among other things, calls on the BiH authorities to intensify comprehensive reforms. The conclusions also emphasize the importance of respecting the principle of equality and non-discrimination based on the constitutional category of constitutionality.
"In this respect, the necessity of the Election Law reform is emphasized, which will include all aspects relevant to the essential realization of equality of citizens. In particular, this is the application of the principle of legitimate representation in the process of election of members of the Presidency of BiH, the election of national clubs of members in the House of Peoples of the Federation of BiH, implementation of the judgments of the European Court of Human Rights, as well as the recommendations of relevant international institutions that call for the improvement of the transparency of the electoral process", reads the press release issued after meeting.
The interlocutors agreed that all these issues are very important for BiH to get a democratic and constitutional Election Law.
Covic stated that he is convinced that the undertaken obligations towards the EU could be carried out much faster and, in that regard, he recalled the conclusion of the BiH Presidency, which obligated the finalization of the Questionnaire of the European Commission and its translation, until December 15.
In accordance with discussions Covic previously had with all levels of government, he assessed that the prerequisites for the candidacy status are being implemented in accordance with the planned dynamics. With regard to this, Covic stated he will inform EU officials in Brussels, where he travels on October 24.
Wigemark expressed the full EU support to all reform efforts that are in the function of strengthening  of the BiH European perspective./IBNA