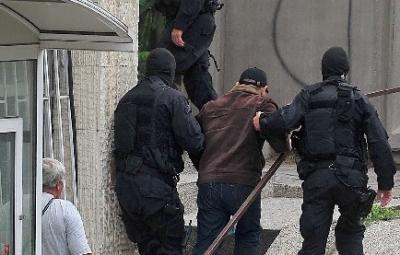 Skopje, February 18, 2014/Independent Balkan News Agency
By Naser Pajaziti
The trial on the "Spy" affair which will try former workers of secret services, journalists and other persons for espionage, will be held with closed doors.
This was the ruling of the Court of Skopje, upon the request of the prosecution, which declared that the defendants of the trial may leak state secrets prohibited by law.
The trial against the former head of the Directorate Against Money Laundering, Vane Cvetanov has encouraged the ruling of the court, as he's expected to offer confidential data in his testimony.
The judicial trial is also expected to be held with closed doors in the next session, as there will be testimonies by officials of the State Archive and amongst them is the main defendant in this process, former official of secret services, Marjan Efemov and other defendants.
19 defendants will face charges on this trial, amongst them former employees and current employees of the secret services, agents of military services, state officials, journalists, who are all accused of spying and endangering state interests in favor of foreign secret services.
The group was arrested last September, where 13 members are still under custody. The rest are on the run, excluding the accused journalist, Zoran Bozinovski, who has been arrested in Serbia and there are problems for his extradition as he has Serb nationality.
The main defendant is Marjan Efremov, former official of secret services, who is accused as the mastermind of the group.
Pro government media in Skopje had reported that the organized group was securing information from high state institutions which were then passed on to foreign secret services, such as the Greek and Hungarian one.
This issue has sparked debates even in the neighboring countries, as the Greek newspaper "Kathimerini" stressed a while ago that this affair in Skopje has been fabricated by government institutions and that the Greek government is not involved in it. /ibna/