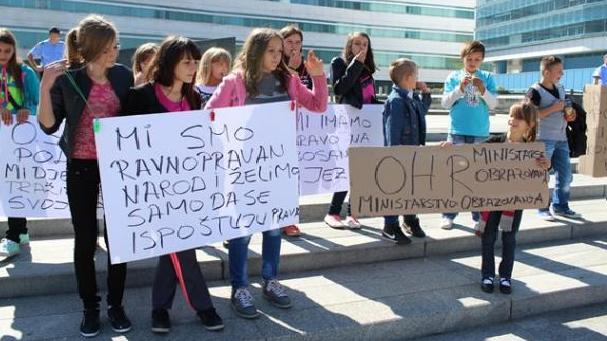 By Mladen Dragojlovic – Banja Luka
Banja Luka County Court, confirmed the verdict of the court in Kotor Varos, near Banja Luka, in the case of the discrimination of Bosniak nationality pupils in the Elementary school "Sveti Sava" in the village Vrbanjci.
But, in this case, the County court disputed the verdict in the part where the court in Kotor Varos had ruled that the appeal is based on the fact that discrimination exist, but it was not submitted within the statutory time. County court, in its verdict, said that discrimination of pupils, whose parents are fighting for two years to force relevant institutions to introduce a national group school subjects in curriculum, is persistent and in continuity.
The second instance Court wasn't able to change the first instance verdict. Instead of that the court overturned the verdict and ordered a new process in this case", said parents from Vrbanjci lawyer, Haris Kaniza, to media.
The dispute between parents and Republic of Srpska ministry of education begun several years ago when Bosniak (muslim) returnees in village Vrbanjci demanded a national group of school subjects for their children in local elementary school. It culminated in June 2013, when parents said that, if the ministry doesn't fulfill this demand, they will not send their children to school. Since the ministry didn't do that, they and parents in Konjevic Polje, near city of Zvornik, who had the same demand, refused to send their children to learn Serb history and language in the school.
"We were clear and we know that our children have the right to learn a national group of school subjects in Vrbanjci. We will not give up", had said at the time, Nedzad Smailovic, one of the parents, to the media.
After the decision of the County court, Smailovic said that he is satisfied with it and hopes that their case will go in a positive way. He emphasized that parents just want the ministry take their requests in account and to solve this years long dispute.
Smailovic said that the final, and for them positive, decision of the court will mean that pupils in the whole of Bosnia and Herzegovina will not have to go through a similar situation.
Because of this problem, the school year 2013/14 is lost for their children. This year, Bosniak children are enrolled in a school in the village of Jelah, which is the nearest settlement in other entity, BiH Federation. Most of teachers from Jelah is coming in Vrbanjci to hold lectures. RS Ministry of education earlier said that there is no legal conditions for national group of subjects in this school. Parents and pupils now are waiting for the final court decision in their case.