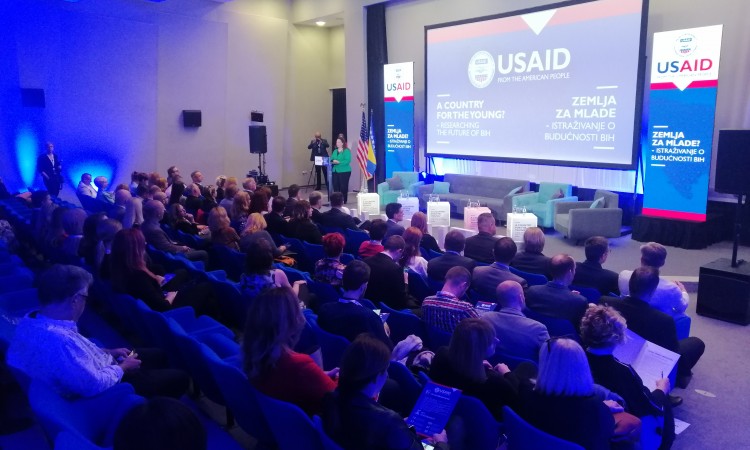 The conference "Country for Youth? – Exploring the Future of BiH," was held on Friday to mark the completion of USAID's MEASURE-BiH project. The conference presented the results of research in the areas of corruption, employment, starting a business, the position of young women in BiH society and the labour market, all of which have been combined into academic papers presented during the conference.
The conference was opened by USAID Mission to BiH Director Nancy J. Eslick, who noted that the presence of corruption, political influence and poor business environment have led to a kind of hopelessness, which resulted in young people leaving in search of better life opportunities.
"One of the biggest problems that BiH is currently facing is the departure of young people. The progress made 24 years ago has faded. Corruption, political eligibility and poor business environment reduce opportunities for young people. How we can stop these negative trends was one of the topics of today's conference. The goal is to encourage people to engage in these talks, to help young people reflect on their future, seek solutions and stay in BiH," Eslick said to media.
The conference was divided into three-panel discussions. The first discussion focused on corruption, low quality of public services and young people leaving BiH, the second on the labour market and youth employment opportunities, and the third on the commitment and opportunities for youth entrepreneurship in BiH.
"MEASURE-BiH" is a project of the United States Agency for International Development (USAID), which for the past five years, has worked to build the capacities of USAID for monitoring and evaluation, that is, the impact of its development projects.
Some of the results of the MEASURE-BiH survey emphasize that improving public services, above all education and combating corruption, should be the highest priorities of the government so that young people do not leave the country.
The research indicates that the key conditions for the retention of young people are the suppression of job nepotism, improvement of the quality of education, noting that the university education increases the chance for young people to find employment by eight times.
Improving the education system will improve the chances for young people in BiH to work in the professions of their choice. Promoting secondary and higher education for women would reduce gender disparities in the labour market and increase the workforce in BiH.
Also, as agencies reported, if education provides them with the necessary skills and knowledge, young people will have a greater desire to try themselves as entrepreneurs. The current media image of entrepreneurs is significantly discouraging young people from starting their own business./ibna