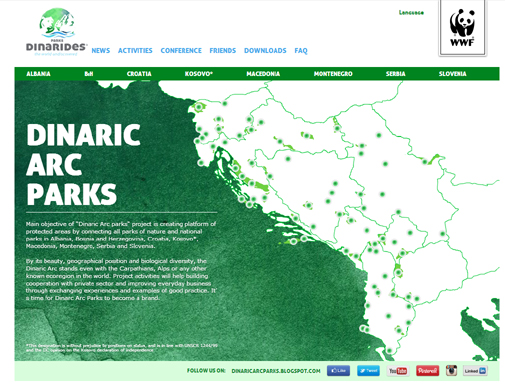 By Adnan Prekic – Podgorica
National parks and protected natural areas in six countries in the region will soon be represented by one association. Six countries in the region of the "Dinaric Arc" started the process of establishing the "Dinaric Arc Parks" Association. The model of the organisation was agreed at a meeting in Podgorica. The Association will be established in February 2015, with offices in Montenegro, Croatia and Serbia.
The networking initiatives of national parks of Bosnia and Herzegovina, Montenegro, Croatia, FYR Macedonia, Slovenia and Serbia have finally been agreed. The "Dinaric Arc Parks" association representatives of the six countries will comprise an offer for national parks in their respective countries the following year. The main aims of the association are networking parks, technical & professionall support and better promotion of the parks. The association will help protected areas in the region attract funds, as well as create joint development projects.
World Wide Fund for Nature WWF will prepare a draft statute and work plan, which will be reviewed at the next meeting of the working group in July in Bled, Slovenia. The activities of the association during the first three years will be funded through WWF's projects, after which the association is to become fully independent and self-sufficient.
Coordinator of the World Wide Fund for Nature (WWF) – Leon Kebe, who is in charge for the project "Dinaric Arc Parks", said that the governments of all the six countries of the region supported the establishment of the associations. He noted that the ministers of the region signed the document "Big Win for Dinaric Arc", which in the last paragraph provides that states take it upon themselves to support the association of Dinaric Arc Parks. "The association will continue to be a solid partner of WWF, which will give us even more opportunities for success in the conservation of nature. Our goal is to raise the importance of protected areas on the political agenda of every country and with this association that will be easier to achieve", said Kebe.
In a survey conducted by WWF ahead of a meeting in Podgorica, many parks have expressed a desire for establishing such an association. In which of the three proposed state will be its seat depends on the cooperation with ministries and major parks in each of these states.
Project "Dinaric Arc Parks" was started by WWF in 2012 with the idea to create alliances of nature parks and national parks in Albania, Bosnia and Herzegovina, Montenegro, Croatia, Kosovo, FYR Macedonia, Slovenia and Serbia. The project is funded by the Ministry of Foreign Affairs of Norway and the MAVA Foundation.