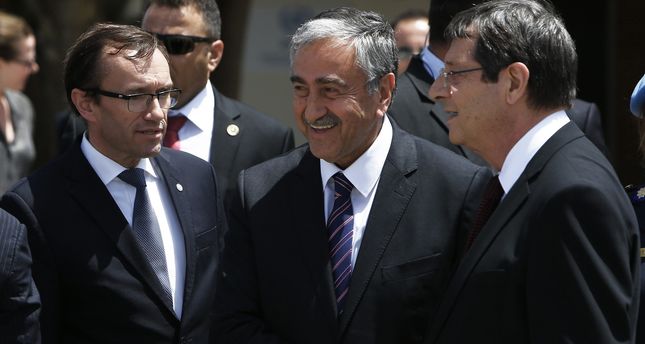 The Cyprus Issue is entering its most crucial phase as the political landscape concerning who will participate in the Geneva conference is clearing up. In addition the second round of consultations in Switzerland, between the Greek and Turkish Cypriot begins on Monday January 9.
Nikos Anastasiades and Mustafa Akinci have departed for Geneva, where on Sunday night, they will meet to determine the agenda of the meetings to take place between the 9 – 11 January.
The President of Cyprus will be accompanied in Geneva by Cypriot Foreign Minister Ioannis Kasoulides, government spokesman Nikos Christodoulides, Deputy Minister to the President Constantine Petridis, deputy government spokesman Victor Papadopoulos, the negotiator Andreas Mavroyiannis and the negotiating team. Leaders of all parliamentary parties will be in Geneva except for the far-right ELAM.
According to government spokesman Nikos Christodoulides the presence of the National Council members will not be symbolic, as party leaders will have ongoing consultation with Mr. Anastasiades.
In Greece there are intensive and ongoing efforts on behalf of the Greek Government and the Greek Prime Minister Alexis Tsipras and his Foreign Minister Nikos Kotzias for a positive development in the Cyprus Issue.
According to IBNA information the Turkish side will be represented by Turkish Prime Binali Yildirim but the possibility of Turkish President Recep Tayyip Erdogan to attend remains open, as there are intensive consultations by the UN for his participation, the involvement of the Greek Prime Minister is considered to be certain and imperative.
According to IBNA information, the Greek Prime Minister will be accompanied by the Greek Foreign Minister Nikos Kotzias and other officials and they will depart late afternoon on Wednesday January 11 for Geneva.
A meeting between Alexis Tsipras and his Turkish counterpart Binali Yildirim has not yet been verified but the Greek Foreign Minister will have bilateral contacts with Turkish Foreign Minister Mevlut Cavusoglu and possibly with British Foreign Minister, Boris Johnson.
The European Union will be represented by European Commission President, Jean-Claude Juncker, who has in depth knowledge on Cyprus and will possibly be accompanied by Frederica Mogherini, but this has not been confirmed.
Meanwhile, Cyprus government spokesman Nikos Christodoulides said that regardless of who will represent Turkey in Geneva, the important thing is to know if the Turkish side will attend the Conference with a will to find a solution to the important issue of security.
Mr. Christodoulides said that the Greek Cypriot side is properly prepared and is ready to address all issues arising in Geneva.
Following his meeting with Mustafa Akinci the Cyprus President stated that "Only if the two sides are close to an agreement on the territorial issue following the map exchange will the international conference in Geneva on Cyprus take place" casting doubt over the future of the international conference on Cyprus, on 12 January.
However, according to the draft consultation program, it was confirmed that the maps will be submitted on January 11. Following their review and subsequent confirmation that they remain within the points agreed, they will be submitted to the special adviser of the UN Secretary-General, Espen Barth Eide for the process to move to the next step./IBNA
Read also:
Kotzias trip to New York a success ahead of Geneva talks on Cyprus
Cavusoglou: Optimistic about agreement on Cyprus
Kotzias – Cavusoglu meeting focused on Cyprus Geneva talks