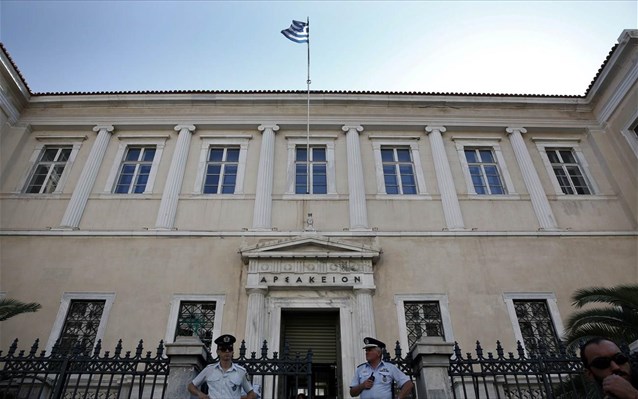 A crucial week in the Greek television broadcasting licensing saga began with the Council of State convening on Monday evening to discuss the case brought by television channels against legislation granting the right to issue nationwide TV licenses to the Minister of State rather than the National Broadcasting Council.
According to local reports, the plenary of the Council of State (CoS) did not arrive at a final ruling on Monday and will resume their examination of the constitutionality of the so called "Pappas Law" on Wednesday.
The fact that a second meeting has already been scheduled so close to the first means a final ruling could be expected.
The rapporteur of the case has already began explaining his proposal to the Council of State members. He will propose that the law is in line with the Constitution.
If the Pappas Law is ruled unconstitutional the government will be dealt a huge political blow as its entire set of arguments in the TV licensing issue will collapse. In order to halt the backlash and waves of negative publicity, reports suggest Alexis Tsipras could reshuffle the cabinet before the crucial ruling by the Council of State on the constitutionality of the controversial law.
Prime Minister Alexis Tsipras told a Syriza Political Secretariat meeting on Monday that the government retains the right to regulate the television broadcasting market. The premier added that only the people will judge his government and it will not be determined by any court decision.
Even though an early election is seen as highly unlikely even if the CoS rules that the Pappas Law is unconstitutional – and Pappas is expected to remain State Minister in an upcoming cabinet reshuffle – the government will nevertheless be dealt a major political blow as its entire set of arguments in the TV licensing issue will collapse.
On the other hand, should the CoS rule that the Pappas law is constitutional, it will be in favor of the State's arguments which include that existing television stations are operating illegally and need to close down, a decision that would greatly boost the Tsipras administration.
There is a small chance that the Council of State questions the European Court of Justice (ECJ) on the issue; a development that would significantly delay the entire process – even by an entire year.
Meanwhile, a meeting of the parliament's Institutions and Transparency Committee on Tuesday that was expected to hear the four winners of the recent TV licensing tender has been postponed.
The meeting had been called by the opposition parties to look into the terms and conditions of the tender./IBNA