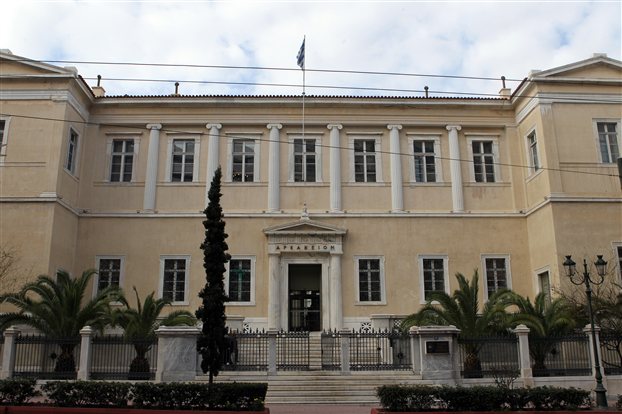 B Lefteris Yallouros – Athens
Greek Prime Minister Antonis Samaras will hold a crucial meeting Monday with coalition partners Evangelos Venizelos and Fotis Kouvelis to discuss the pressing issue of the sudden closure of public broadcaster ERT.
The Prime Minister offered Venizelos and Kouvelis a concession over the weekend. Addressing a conference of his party's youth organization, Samaras said he wasn't backing down from his decision to shut down ERT, however, he proposed the broadcaster could operate until the new entity is set up.
A few employees could stay on to produce news programs and the launch of a new public broadcaster could be set up faster than originally planned, Samaras said.
Furthermore, in an interview with Kathimerini's Sunday edition, Samaras said "ERT isn't the problem. Reforms must go ahead and the public must get behind them. We must show the people that we dare to get rid of waste havens".
Socialist PASOK and Democratic Left (DIMAR) leaders Venizelos and Kouvelis turned down the premier's offer of a compromise. Both stick to a draft law submitted to parliament aiming to reverse the ministerial decree that opens the door for ERT's closure.
The Council of State, Greece's highest administrative court, is set to issue a preliminary verdict Tuesday on the nationwide federation of television and radio personnel POSPERT's request that the closure be reversed.
The decision could prove key. If the court's verdict vindicates POSPERT and the reversal of the broadcaster's shutdown is ordered, the government will be thrown a lifeline and both sides will have gained time to better plan ERT's necessary overhaul.
Samaras's resilience would be intact and his plan could go ahead by the end of August while the junior coalition partners would also appear to have defended their positions until the end. All parties would have to respect the court's decision and an early general election would be avoided.
The Prime Minister received a phone call from German Chancellor Angela Merkel on Sunday which may play some part in this crisis. Greek media report Mrs. Merkel has a keen interest in Greece avoiding an early election. Officially, the German government's spokesman said the Chancellor expressed her satisfaction at progress made by the Greek government in the implementation of the adjustment program.