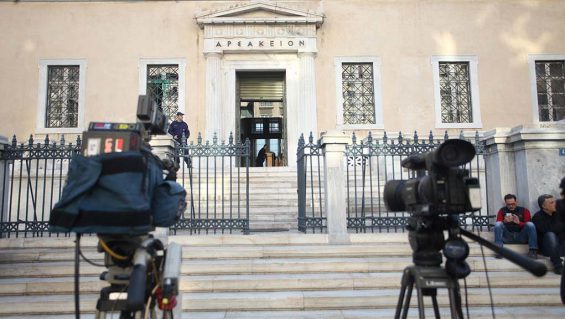 According to the rulings of the 7-member composition of the D' Department of the Council of State, Turkey is considered a safe country for refugees to return to as the neighboring country has ratified the Geneva Convention.
However, the issue was referred to the plenary of the Council of State due to its high importance.
The decisions published concerned the "Greek Council for Refugees" Association and two Syrians. The two refugees, assisted by the Association, request that the CoS – among other things – does not allow their return to the neighboring country and that the decisions of the Asylum Commission are cancelled; these decisions ejected as inadmissible their requests to be granted refugee status and be offered asylum by Greece.
Their request was rejected on the grounds that Turkey, from where the two Syrians came to Greece, is a safe country as it has ratified the Geneva Convention with a geographical limitation, ie it only applies to persons from Europe. It is also noted that the two Syrians who entered Greece via Turkey have a connection in the neighboring country as their family and relatives (uncle, etc.) are there, while, according to the Committee, Turkey has committed to readmission since 18.3.2016 in a joint statement with the European Union.
The CoS mentions that relevant law 4375/2016 provides that Greek authorities reject an application for international protection as inadmissible if it considers that a country constitutes a safe third country for the applicant.
Moreover, it is noted that for a country to be safe, it is not required to have ratified the Geneva Convention (in fact without geographical limitation) but it is "enough for the protection provided to the refugee by this country to be equal to protection accorded by the Geneva Convention".
Furthermore, as noted in the decision, this conclusion is drawn from both Greek and European legislation, which "do not foresee that for a third country to be considered safe it should have ratified the Geneva Convention."
Also, it is noted that law 4375/2016 provided as a criterion for a country to be considered safe that "the asylum seeker has a link with that country which would make it reasonable to travel there".
Finally, the CoS dismissed as unfounded the claims that the contested independent refugee committees are unconstitutional because the Constitution does not allow the participation of practicing judges in such committees, and because the choice of judges (Administrative Appeal justices) was made by the general state commissioner of administrative courts and not the Supreme Judicial Council or by draw – allegations put forward by the appellants.
The decision also noted that the choice of judicial officers, and staff of the European Asylum Support Office (EASO) as members of the refugee committees does not contravene constitutional imperatives./ΙΒΝΑ