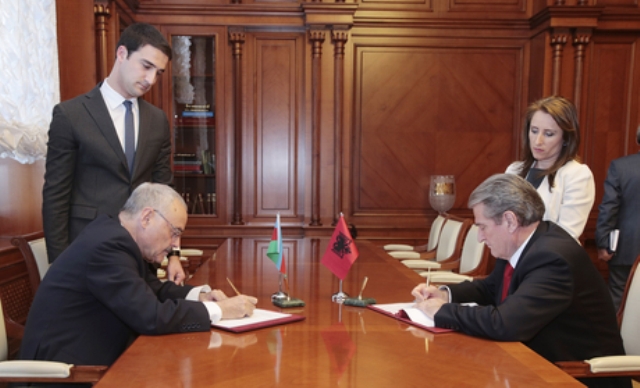 Baku, 8 April 2013
The Prime Minister of the Republic of Albania, Sali Berisha, met today the Premier of the Republic of Azerbaijan, Artur Rasizade. The meeting was held on the sidelines of the World Economic Forum that is being held in Azerbaijani capital under topic, "Strategic Dialogue on the Future of the South Caucasus and Central Asia".
The discussion on the Trans Adriatic Pipeline (TAP) Joint Venture project occupied a special place in the meeting.
Prime Minister Berisha emplasized that TAP is the most feasible project, the most economic and with the largest and the most guaranteed market.
Albania's Prime Minister expressed gratitude for warm welcome and hospitability and for hosting such a landmark forum. At his words, the Forum was organized at high level. Albania has successfully coped with the economic crisis in Europe, he underlined, adding that his country has conducted serious reforms to this end.
Premier Rasizade appreciated his participation in the Baku Economic Forum, expressing confidence that the visit will also make certain contribution to the expansion of bilateral cooperation.
Then, the two Premiers have singed an Agreement of cooperation between the two countries. /ibna/